1. Beyond Meat's Beef-Free Crumbles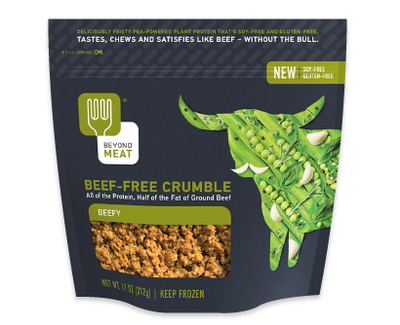 These
tasty crumbles
come in "Beefy" and "Feisty" flavors, and are sure to fool even the most devout carnivore!
2. Earth Balance Vegan Sour Cream & Onion Kettle Chips


Get ready for a snack attack!
These
are also available in a vegan cheddar flavor.
3. Field Roast's Apple Maple Breakfast Sausages


Just when you thought
breakfast
couldn't get any
better
.
4. Treeline's Scallion French-Style Soft Cheese


Spread on crackers for a
delicious treat
without any of the animal cruelty or cholesterol.
5. Endangered Species Créme Filled Dark Chocolate


We have no words
.
6. Upton's Chorizo-Style Seitan Tamales Con Mole


Try
these
with salsa verde or vegan chipotle aioli.
7. Field Roast's Hand-Formed Burger


Field Roast is at it again, and this time it's a
brand-new burger
! Mmmm!
8. Gardein's Fishless Filet


Fish tacos
, anyone?
9. Earth Balance Vegan Cheddar Squares


Eat
these
, and no one gets hurt!
10. Daiya's Smoked Gouda Style Block


Try with crackers, or on your favorite sandwich.
So gouda
!
11. Tofurky Chick'n Pot Pie


For a cruelty-free trip down memory lane, try this
scrumptious new treat
from Tofurky!