Inspiring Compassion. Ending Cruelty.
Mercy For Animals is dedicated to preventing cruelty to farmed animals and promoting compassionate food choices and policies.
Imagine a world free of cruelty, a world in which we nurture our bodies, minds, and spirits with wholesome, healthy food that is kind to animals and sustainable for our planet. MFA believes that world is possible. In fact, it is inevitable if we work together to elevate humanity to its fullest potential.
---
Our Success
Our programs are sparing millions of lives and reducing the suffering of animals around the globe.
*Approximately
1

BILLION
animals spared annually from cruel cages, mutilation, or slaughter while conscious
90

COUNTRIES
impacted by MFA's corporate policy victories
30

MILLION
animals freed from cruel cages annually thanks to new laws promoted by MFA and partner organizations*
5

MILLION
animals spared from misery annually thanks to people inspired by MFA to reduce or eliminate meat, egg, and dairy consumption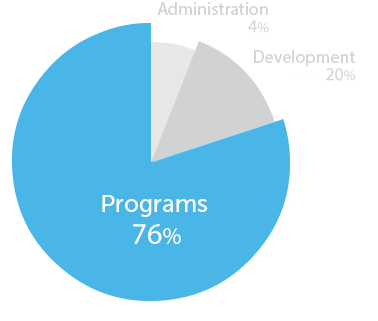 Your Money at Work
Nearly 76 cents of every dollar spent by Mercy For Animals goes directly to programs that save animals. The remainder is used to grow MFA's size and capacity so we can help even more animals in the future.
Learn More
---
Our Team
Changing Hearts. Changing Minds. Changing the World.
Nicole Furlan
Senior Frontend Developer
Nicole Furlan serves as one of our web developers, and has been working to protect all animals ever since her dog saved her life. A nearly lifelong vegetarian, she became vegan after watching undercover factory farming footage. She also advocates against all forms of discrimination — including unfairly stereotyped dog breeds — and shares her home with her husband, Billy, and two loving rescued pit bulls, Brady and Bruno.
Gus Mueller
Senior Backend Developer
Gus Mueller likes to make things out of other things. In fact, he's been transforming caffeinated beverages into parts of the web for the past 20 years. A lover of nature and all things animal, he finally broke his addiction to cheese pizza and went vegan after being snowed in for two weeks with only vegan fare. Today he works as one of our web developers.
Cameron McBride
Frontend Developer
Cameron McBride serves as our junior frontend developer. Upon discovering the effects of heavy meat consumption on the human body, Cameron adopted a healthy and humane plant-based diet. He currently shares his home with his wife, Erin, and three loving companion animals.
Jess Westberg
Video Editor
Jess Westberg serves as a video editor. Based in Brooklyn, New York, she has worked in video post production and animation for many years, primarily in the realm of advertising, but also on a few television shows and documentaries. As a committed vegan who has been passionate about animal rights and protection for close to 20 years, Jess is excited to offer her professional skills to a cause that she really believes in. Jess shares her home with her adopted dogs Pickles and Daisy.
Krystal Caldwell
Statistics and Data Analytics Manager
Join Our Team
View Job Openings
International
Krista Hiddema
Vice President, Canada
Krista Hiddema serves as vice president for MFA in Canada, spearheading corporate outreach initiatives and media relations, and leveraging MFA's influence to strengthen governmental protections for animals in Canada. Krista and her husband, Nigel, share their home with their rescued companion animals, Pitou, Smurfette, Blue, Honey, Spice, Chip, and Dale.
Blanka Alfaro
Vice President, Mexico
Blanka Alfaro serves as our vice president for MFA in Mexico, creating, managing, and translating social media content and other communications for our Latin American audience. Blanka worked in graphic design and marketing before leaving the world of commercial advertising to apply her skills to helping animals
Lucas Alvarenga
Vice President, Brazil
Lucas Alvarenga serves as vice president for MFA in Brazil. As a marketing professional, he was a serial entrepreneur in the digital arena. After deciding to dedicate his life to helping animals, he created Veggo.co, partnered with the Brazilian Vegetarian Society on a 21-Day Meatless Challenge, and organized Festival Veggo, the largest Brazilian vegan funfest. Lucas celebrated his 15th vegetarianism birthday by joining MFA's team.
Subru Santakumar
Communications Coordinator: India
Subrahmanian Santakumar (Subru) serves as our communications coordinator in India. He reaches out to our Indian audience through social media and other avenues of communication, manages volunteers and outreach efforts, and serves as a liaison to activists and other organizations in the country. A resident of Bangalore, Subru is a passionate animal lover and wildlife photographer. He volunteered in animal rescue and rehabilitation for several years while maintaining a senior role at a telecommunications firm. After a career of more than 16 years in the corporate world, he has followed his heart to work for animals full time!
Fiona Wong
Communications Coordinator: Hong Kong
Fiona Wong, our Hong Kong communications coordinator, manages our initiatives in China. MFA's video Farm to Fridge inspired Fiona to go vegan at the age of 18. Fiona's only regret is that she did not discover the truth behind slaughterhouses earlier and save more lives. Fiona views working for MFA as a dream come true. She currently shares her home with rescued cats Mimi and Lanlan.
Bruna Nascimento
Vegetarian Support Specialist: Brazil
Bruna Nascimento serves as our Brazilian vegetarian support specialist. She became interested in animal rights and decided to go vegan when she started studying nutrition in college. She believes that diets can do so much more than feed our bodies: They can be a tool for promoting a more sustainable planet while reducing the suffering of billions of animals. Her mission at MFA is to provide assistance and resources to people interested in cutting meat and other animal products from their diets.
Help Save Her
You can save an animal's life today!
Pledge to Eat Vegetarian
Spare dozens of animals a year—and feel great—by ditching meat. Sign the pledge to get a free Vegetarian Starter Guide!
Get Involved
Sign up now to receive action alerts, updates, and invitations to events that help animals.