Inspiring Compassion. Ending Cruelty
Mercy For Animals is dedicated to preventing cruelty to farmed animals and promoting compassionate food choices and policies.
Imagine a world free of cruelty. Where we nurture our bodies, minds and spirits with wholesome, healthy food that is kind to animals and sustainable for our planet. Mercy For Animals believes that world is possible, in fact inevitable, if we work together to elevate humanity to its fullest potential.
---
Our Success
Our programs are sparing millions of lives and reducing the suffering of animals around the globe.
*Approximately
412

MILLION
animals spared from cruel cages and mutilation annually thanks to MFA's corporate policy victories*
90

COUNTRIES
impacted by MFA's corporate policy victories
30

MILLION
animals freed from cruel cages annually thanks to new laws promoted by MFA and partner organizations*
5

MILLION
animals spared from misery annually thanks to MFA inspiring people to reduce or eliminate meat, egg and dairy consumption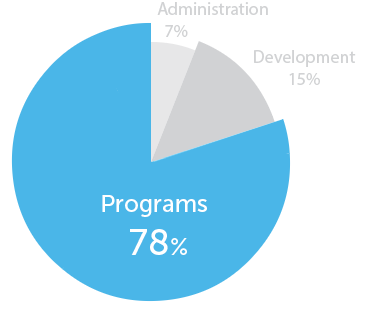 Your Money at Work
Nearly 78 cents of every dollar spent by Mercy For Animals goes directly to programs that save animals. The remainder is used to grow MFA's size and capacity so we can help even more animals in the future.
Learn More
---
Our Team
Changing Hearts. Changing Minds. Changing the World.
Ari Solomon
Director of Communications
Ari Solomon is our director of communications, managing all things social media. He also serves as the liaison to celebrities involved in MFA's campaigns. A prolific writer, Ari's work appears regularly on The Huffington Post, and has been featured in the Los Angeles Times, The New York Times, and The Advocate. Ari's videos on veganism, including Sh*t Vegans Say, have become viral sensations, with nearly 2 million combined views.
Jaya Bhumitra
Director of Corporate Outreach
Jaya Bhumitra serves as our director of corporate outreach, encouraging major food retailers, grocery stores, and fast-food giants to adopt and strengthen animal welfare policies. After learning about California's Proposition 2, a bill aimed at ending extreme confinement of farmed animals, Jaya immediately went vegan. Jaya shares her home with her partner, Chris, and three beautiful rescued animals.
Johnathan Skinner
Software Engineer
Johnathan Skinner is our software engineer, overseeing the organization's impressive catalogue of websites. Wellsprings of information on the benefits of veganism and the cruel plight of farmed animals, MFA's websites are visited by thousands of people every day. Johnathan began his professional career as a video game programmer, landing a job as a game creator for Nintendo just one year out of high school.
Krista Hiddema
Managing Director, Canada
Krista Hiddema is managing director for MFA in Canada, spearheading corporate outreach initiatives and media relations, and leveraging MFA's influence to strengthen governmental protections for animals in Canada. Krista and her husband, Nigel, share their home with their rescued companion animals, Pitou, Smurfette, Blue, Honey, Spice, Chip, and Dale.
Brooke Mays
Editor in Chief
Brooke Mays, MFA's editor in chief, reviews all of MFA's written material, and serves as managing editor for our semi-annual magazine, Compassionate Living. After an MFA investigation revealed startling animal abuse at an egg factory farm that supplied to Trader Joe's, her letter to Trader Joe's led the grocery giant to drop the cruel egg producer. Brooke has proven time and again that the pen is mightier than the sword!
Nicole Furlan
Web Developer
Nicole Furlan serves as our web developer. Nicole has been defending all animals ever since her dog saved her life. A nearly lifelong vegetarian, she became vegan after watching undercover factory farming footage. She also advocates for unfairly stereotyped dog breeds and shares her home with her husband, Billy, and two loving rescued pit bulls, Brady and Bruno.
Cameron McBride
Assistant Web Developer
Cameron McBride serves as our assistant web developer. Upon discovering the effects of heavy meat consumption on the human body, Cameron adopted a healthy and humane plant-based diet. He currently shares his home with his wife, Erin, and two loving companion animals.
Krystal Caldwell
Statistics Analyst
Courtney Dobbin
Project Coordinator: Canada
Courtney Dobbin is project coordinator for MFA in Canada. She works closely with the managing director, assisting with media matters, campaigns, outreach, and more. After joining the team, she quickly discovered that her prime purpose was to reduce animal suffering across the country while planting seeds of compassion into the hearts of people.
Join Our Team
View Job Openings
Help Save Her

You can save an animal's life today!

Pledge to Eat Vegetarian

Spare dozens of animals a year—and feel great—by ditching meat. Sign the pledge to get a free Vegetarian Starter Guide!

Get Involved

Sign up now to receive action alerts, updates, and invitations to events that help animals.