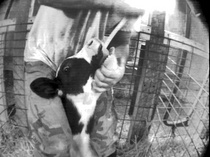 Time and again,
MFA's undercover investigations
at factory farms and slaughterhouses nationwide have revealed abuses that shock and horrify most Americans - which is why the corporate animal agriculture industry is fighting so hard to keep the suffering of farmed animals hidden behind closed doors. Thankfully, the
latest attempts
by factory farmers to conceal animal abuse have fizzled in Florida.
Following two public hearings and facing intense public outrage from caring consumers who contacted their state representatives, Florida legislators decided to
remove
the controversial "Ag-gag" provision from the larger "agriculture omnibus bill" that would have punished those who bravely expose
animal abuse
,
environmental violations
, and other problems on factory farms.
While it's a temporary relief that this dangerous provision was removed from the bill, it is more important than ever for animal advocates to remain vigilant to ensure that shady factory farm interests aren't able to sneak this provision into another bill at the last minute. It's also important to remember that similar
whistleblower-suppression legislation
is still pending in New York, Indiana, Iowa, Minnesota, and Nebraska.
What exactly are these pro-factory farm legislators trying to hide?
Video footage is the most powerful tool the animal rights movement has to raise awareness about the plights of farmed animals.
Click here
to learn more about how you can help expose the truth that factory farmers are working so desperately to hide.