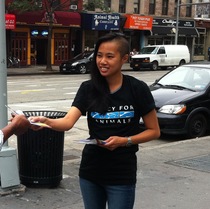 Ever wonder what it would be like to live in the Big Apple advocating for farmed animals? We caught up with Irene Zhou, who recently spent three months volunteering at our New York City Advocacy Center, and asked her to give us the scoop.
A cooking and baking whiz with a background in English literature, Irene adopted a
vegan diet
in 2010 after reevaluating the impact her food choices made on her health, the planet, and animals. Two years after going vegan, this culinarily savvy Queens, NYC native took the next step into farmed animal advocacy through
pro-vegetarian leafleting
,
Paid-Per-View
screenings, and writing blogs and letters to the editor about the plight of animals raised and killed for food.
What first inspired you to become a vegan?
Two years ago, I read Jonathan Safran Foer's
Eating Animals
, which made me completely reevaluate how I thought of animals. The scale of animal suffering is so immense, and going vegan was the easiest, most immediate way for me to alleviate such unnecessary suffering.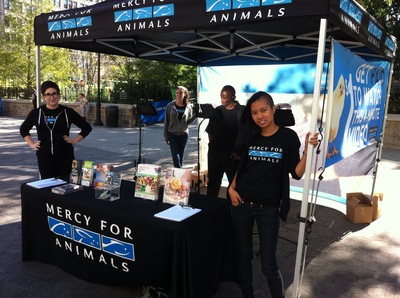 What is your favorite vegan/animal rights resource?
When I first started out, vegan food blogs like the
Post Punk Kitchen
and vegan cookbooks helped me discover that I could make plant-based versions of virtually all the foods I was used to cooking.
Why did you choose to volunteer with MFA?
I wanted to be involved in something I was passionate about and be able to articulate more effectively to everyone around me why our food choices matter on an individual, community, and global scale. MFA is such an effective champion for farmed animals so I knew they would have so much insight to offer into issues that I was still learning about.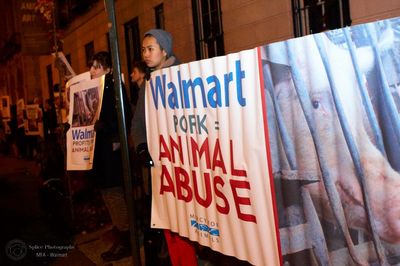 What did you like most about volunteering with MFA?
I loved leafleting! I was really hesitant about it before I started, but the firsthand interaction with people was overwhelmingly rewarding. What also made it so enjoyable was working alongside
Eddie Garza
, former intern
Heather Schloss
, and dozens of other compassionate animal activists because they were so generous with their time and knowledge.
What is the key to your success as an activist?
Patience. The majority of people are open to learning about the benefits of going vegan, but you will encounter people who can be insensitive at first. I was one of those people who never thought she'd be vegan and said, "I love meat" to my vegetarian roommate on multiple occasions, so that is always important for me to keep in mind.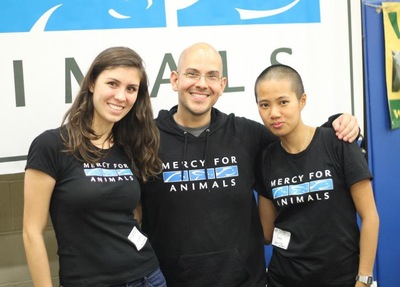 Can you offer any insight for others interested in becoming involved with animal rights activism?
The best advice I can give is to just start volunteering with a group like Mercy For Animals. It will make you a happier person knowing that you are a voice for animals!
Inspired?
Click here
to start getting active for farmed animals!