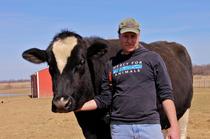 Ever wonder what it would be like to volunteer for Mercy For Animals? Meet activist extraordinaire Kevin O'Connor. Residing in Cincinnati, Kevin
went vegan
back in 2006 and became involved in animal advocacy shortly thereafter. In 2010, Kevin worked with Ohioans for Humane Farms on its ballot initiative campaign to ensure cows, pigs, and chickens had at least enough space to stand up, turn around, extend their limbs, and lie down. He later became MFA's outreach coordinator.
What sparked your interest in helping animals?
Becoming an active animal advocate was the obvious next step for me after adopting a vegan lifestyle. I have always had a big problem with injustice and there is no bigger injustice than the way we treat the over nine billion sentient beings raised for food in this country every year. Once I realized that I could actually do something to contribute to exposing and ending this injustice, I almost had no choice but to act.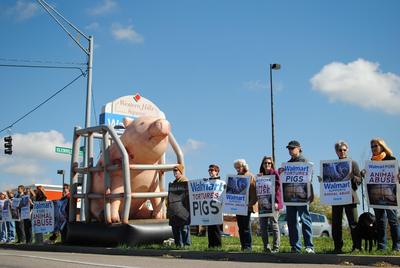 What inspired you to go vegan?
There were a lot of influences that came together and convinced me to go vegan, including reading Gandhi's autobiography and hearing a radio interview in which someone was talking about veganism. What finally put me over the line was a coworker telling me about a procedure (a standard practice) which he helped perform on a farmed animal the prior weekend. I decided right then that I could no longer contribute to the violence that is inherent in animal agriculture.
What is your favorite thing about volunteering with MFA?
Working with other
MFA volunteers
! MFA is an organization that I have always thought of as a class act and it seems to draw really amazing people, both as employees and volunteers. Oh, and really cool T-shirts too.
What is your favorite type of volunteer event?
I think the pride parades/festivals are my favorite. These are our biggest events locally as far as volunteer turnout goes, and hanging out with a couple dozen MFA volunteers is always a great time. Plus, the crowd is generally very receptive to our message and the whole event has a really positive energy.
Can you give an example of someone who changed his or her diet as the result of your advocacy work?
Recently, while leafleting at a concert, we ran into a couple who adopted a vegan lifestyle after receiving literature from us at the same venue last year. There is nothing more uplifting than that!
You have a full-time job.
How do you find time for activism?
The vast majority of the events I schedule are only an hour long and in that time we will usually reach several hundred people with our message. So, someone helping at just one event monthly, literally spending an hour a month on outreach, could have a real impact. It's not a large investment of time at all.
Why do you choose to volunteer your time to help farmed animals?
Farmed animals are the most abused creatures on earth. They are abused in vastly greater numbers than any other group of animals but they have the least number of advocates. I feel that this is where I am most needed.
What is your favorite food?
Just about anything with pasta. If there happens to be some Field Roast Sausage and nutritional yeast involved as well, that is a bonus.
What is your favorite restaurant?
The Loving Hut in Cincinnati. Great food and an awesome staff.
Is there anything you would like to add?
Fifteen years ago, it would have been pretty hard to find someone less likely to go vegan than me. Anyone and everyone can eventually see the light, so don't give up!