MFA volunteer, Jenni Rempel, sat down with Kathy Stevens for this fantastic interview. Check it out!
Kathy Stevens is the founder and director of
Catskill Animal Sanctuary
, a home to rescued farmed animals in the Hudson Valley. Her book,
Animal Camp: Reflections on a Decade of Love, Hope, and Veganism at Catskill Animal Sanctuary
, has just been re-released with expanded content. MFA interviewed Kathy about her book and the vital work she does at Catskill Animal Sanctuary.
What led you to become an advocate for farmed animals?
I grew up on a farm and have always had a kind of reverence for and kinship with animals. When I was ready to change direction professionally, giving them a voice seemed like the perfect synthesis of my two passions--animals and education.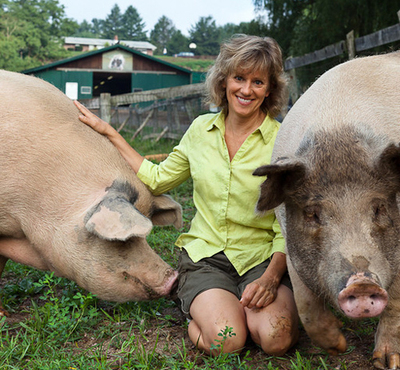 What inspired you to found Catskill Animal Sanctuary?
The desire to create an organization that would be both a peaceful haven for animals in desperate need and an educational center that would open people's hearts and minds, and then provide them with the tools they needed to begin aligning their lifestyle with their values. It felt super important from the beginning to do both! If we're encouraging folks not to eat animals, we also want to make plant-based eating achievable, fun, healthy, and delicious!
Why are sanctuaries important to ending industrialized animal cruelty?
Enabling people to come face-to-face with their food is the vital role played by sanctuaries. While CAS has saved over 3,000 animals through direct rescue, we've saved far, far more through the "create more vegans" part of our mission. Sanctuaries help people "connect" with who they're eating, and we've seen thousands of times over that this experience, combined with learning more about the horrors of agribusiness, is enough to encourage people to go vegan. And the sanctuaries that provide other "support programs" like we do--Camp Kindness for children and Compassionate Cuisine for adults--do even more to help put an end to industrialized cruelty.
What situations do most of Catskill's animals come from?
Lots of our animals come from the five boroughs of New York City, which I never would have believed when we first began. Many of them are presumably escapees from live markets, but many of the smaller animals are literally found in dumpsters and trash cans. Many others come from cruelty cases after they are seized by police, but the largest percentage of animals comes from animal hoarders who "collect" animals without any ability to care for them whatsoever.
Tell us about your new book, Animal Camp: Reflections on a Decade of Love, Hope, and Veganism at Catskill Animal Sanctuary.
Erin Red of
Red Radio
(check it out if you don't know her: she's fabulous!) called the book "
a love letter
" to my animal friends, and I think she's right. It's a collection of essays that can be read in any order about life at Catskill Animal Sanctuary--the adventures and misadventures, the life-changing lessons, the hilarity and the heartache of living and working with farmed animals. But it's also a plea to mainstream America to go vegan...right now.
This new book is an updated version of the previously published Animal Camp. What are the differences between the old book and the newly released edition?
The
new book
is much more current in that it reflects both where CAS is in 2013 but also the remarkable shift we've seen in America's attitudes toward veganism in the three years since the hardcover was published. It has ten new chapters, including "closure" on the life of a remarkable sheep named Rambo, new photos, a new resource section, a little bit more discussion of the urgent reasons for veganism...and a new subtitle, which I love: Reflections on a Decade of Love, Hope, and Veganism at Catskill Animal Sanctuary.
What is the most rewarding part of your work at the sanctuary?
That's an easy one! Hands down, participating in the transformation of a
broken spirit
. To be one of the people who says to a terrified animal, with all that we say and do, "you're safe, you're home, and you can be whoever you wanna be." Still, twelve years into this work, that is my greatest joy.
What does 2013 hold for you and Catskill Animal Sanctuary?
Oh my...lots of hard work! I'm doing lots of speaking and presenting, working on the first in a series of children's books, working on plans for our new farm (just down the road from our current one), and trying to write for
Huffington Post
way more frequently--it's a challenge with all that happens here, but I think it's one of the best ways I can be an effective voice for animals.
CAS is doing all kinds of cool stuff designed to encourage folks in their journey toward veganism. We've moved our annual
Shindig
to the fall, and folks can expect a greatly expanded event that includes some of the most compelling speakers on farmed animal issues in the world (
including someone named Nathan Runkle...name sound familiar?
) Our
vegan cooking program
has expanded in 2013 with lots of guest chefs, and our 200-year-old
guest house
is filling up quickly for the season. We're also SO EXCITED to welcome 50 third graders from
PS 244
, the first vegetarian public school in the country, in a few weeks, and, of course, to welcome thousands of folks this summer to
meet
and experience farmed animals in a way that we hope just may change their lives--or at least their eating habits!
Click here
to purchase your copy of
Animal Camp: Reflections on a Decade of Love, Hope, and Veganism
at Catskill Animal Sanctuary today.
To learn more about making the transition to a kind and compassionate vegan lifestyle, visit
ChooseVeg.com
.