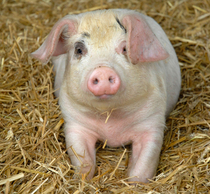 Mercy For Animals is proud to announce that the ASPCA is supporting our efforts to broaden awareness of the plight of farmed animals and to provide quality educational outreach programming across the nation this year. We are delighted to have the partnership of the ASPCA in 2012 as we reach millions of individuals and give hope to the
cows
,
chickens
, sheep, and
pigs
suffering within the factory-farm confines of modern animal agribusiness.
Through our five regional offices, MFA offers
humane education seminars
,
leaflets
throughout our communities, and
organizes events
that expose tens of thousands of individuals to the truth about animal agribusiness. This year, MFA has already distributed over 600,000 pieces of
pro-vegetarian literature
, given nearly 100 talks, and screened our thought-provoking video
Farm to Fridge
to thousands. Our partnership with the ASPCA has also enabled us to spread our message of compassion across the nation with numerous demonstrations like our
Why Love One but Eat the Other
campaign, which highlights the importance of caring for all animals.
All of MFA's numerous
investigations
, programs,
campaigns
, and outreach events exist because of support provided by thousands of generous individuals, foundations, and organizations who, like us, believe that compassion should extend to all beings. We humbly thank the ASPCA and all of you for joining us in our efforts.