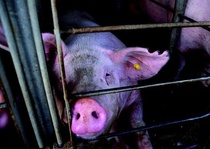 As corporate agriculture interests seek to criminalize undercover investigations into
factory farms and slaughterhouses
, a wide range of people and organizations are voicing their opposition in unison. Twenty-seven national groups have signed on to a
statement condemning proposed legislation
that would thwart efforts to expose farmed animal abuse and other serious issues on modern farms.
The joint statement to lawmakers reads in part:
"These bills represent a wholesale assault on many fundamental values shared by all people across the United States. Not only would these bills perpetuate animal abuse on industrial farms, they would also threaten workers' rights, consumer health and safety, and the freedom of journalists, employees and the public at large to share information about something as fundamental as our food supply. We call on state legislators around the nation to drop or vote against these dangerous and un-American efforts."
Organizations signing the letter include:
American Society for the Prevention of Cruelty to Animals
Center for Constitutional Rights
Center for Science in the Public Interest
Government Accountability Project
The Humane Society of the United States
National Freedom of Information Coalition
National Press Photographers Association
Natural Resources Defense Council
Organic Consumers Association
T. Colin Campbell Foundation
United Food and Commercial Workers International Union
Whistleblower Support Fund
Youth for Environmental Sanity
Undercover investigations by MFA and other groups have led to landmark corporate animal welfare policy reforms, new and improved laws to protect farmed animals and the environment, felony convictions of animal abusers, increased consumer protection and food safety initiatives, and the closure of particularly corrupt facilities.
Recent polls show
that 71 percent of Americans support undercover investigations of farms by animal welfare organizations, including 54 percent who strongly support the efforts. And nearly two-thirds of Americans oppose making undercover investigations of animal abuse on farms illegal.
Unfortunately, at the behest of the multibillion-dollar meat, dairy and egg industries, these Ag-Gag bills are being proposed in states all across the country. Now is the time to make your voice heard!
Take Action:
Harmful and unconstitutional whistleblower-suppression legislation is now being considered in the following states:
Indiana: SB 184 (bill pending)
Minnesota: HF 1369/ SF 1118 (bill pending)
Missouri: SB 695 (bill pending)
Nebraska: LB 915 (bill pending)