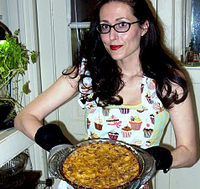 Dan and Annie Shannon are a fun, artistic, food-loving, and self-described "nerdy" vegan couple on a mission to veganize the entire beloved Betty Crocker Cookbook on their blog,
MeetTheShannons.net
. Their
Betty Crocker Project
is filled with mouthwatering 100% vegan recipes, ranging from Eggs Benedict featuring
The Vegan Poached Egg
,
Garlic Cheesy Biscuits
,
Buffalo Chicken Wings
and
Stuffed Crust Pizza
to
Turtle Cheesecake
, attracting vegan and non-vegan followers alike.
Dan and Annie were kind enough to talk with Mercy For Animals about their blog and the Betty Crocker Project.
MFA: Tell us a little bit about Meet The Shannons.
Dan:
Meet The Shannons is
our little blog
about our lives. Mostly it's about food. It's also about the adventures we go on, our extreme nerdiness, and the animal/people/planet-friendly lives we try to lead. Ultimately, though, it's really just about how much we love each other and our lives together. Now everybody go 'awww..."
Annie: Awwwwwwwwwwwww.
MFA: Awwww. Now, seriously, what do you hope people get out of reading your blog?
Annie:
We're hoping to disprove some of the myths about
veganism
being a limited lifestyle that requires some kind of sacrifice. There are so many people out there that know about the
cruelties involved in factory farming
but don't think they can live a lifestyle that has been misrepresented as fanatical and hard. We're hoping if we can show folks that really anything can be vegan - here's proof - they'll be more open to considering a compassionate lifestyle.
MFA: What is the Betty Crocker Project?
Annie:
Well, The Betty Crocker Project started as what could be described as an angry fit. The Shannon household prides itself as being pretty avid amateur vegan foodies. So I thought I could enjoy the movie
Julie & Julia
for the vintage clothing and, ya know, it was about another amateur foodie. I was naive. From what I understand the point of the movie is that it is noble to finish what you start - even if it ruins your marriage to a super nice guy and means you have to murder living creatures by boiling them alive. I watched the infamous lobster-killer scene on the edge of my seat, waiting for her to have a change of heart...but she never did. It really upset me. It hit that nerve that gets smacked around every time I hear some famous chef talk trash on vegetarian cuisine or some hipster talk about the bacon ice cream sandwich they made. In this day and age, you can make anything vegan. There is no excuse to boil anyone alive, make them suffer in
filthy little cages
, or whatever the
brutality
is. Going vegan is easier than ever and you don't have to go without
your favorite dishes
.
To prove it we're cooking our way through one of the most beloved cookbooks in America - The Betty Crocker Cookbook - and we're making it all vegan.
MFA: What has been the response to the Betty Crocker Project?
Dan: It's been totally unbelievable how much people are into it. Just really flattering and humbling.
MFA: What has been the most challenging recipe to veganize and why?
Dan:
I would have to say
Coq au Vin
was pretty tough.
Mostly because neither of us had ever tasted the meaty version and you have to time the seitan just right so it doesn't soak up all the broth... So I researched it a lot to get an idea of what it was supposed to taste and look like. I mean we did A LOT of research to make sure it was right.
MFA: Would you share your favorite recipe from The Betty Crocker Project with our readers?
Annie: Of course! I love talking about food! This one of our very favorites - though I have to admit every week we have a new favorite. Betty is really just so clever.
Osso Bucco
-- It is very easy to make. If you don't like salt, you may want to not salt the potatoes or add more wine to the sauce. It can get a little salty.
MFA: What advice do you have for someone who is making a transition into a vegan diet?
Dan:
Go at your own pace. Some people need to go "cold turkey" and if that works for you, go for it. Other people need to take it slower. Pick one day a week to be vegan, and try that for a month. You can experiment with some recipes you like and become comfortable with the idea. Then bump it up to two days a week for a month, then three, etc. Or, start with just having
vegan lunches
, or
dinners
- whichever is easier for your lifestyle. Or try just being vegan on the weekends. Some people need to roll into things a little, and the most important thing is to make sure it lasts for the long run.
MFA: If you could only eat one food for the rest of your life, what would it be?
Annie: Today I would say grape leaves. Nothing is tastier on a summer day than a chilled plate of lemony grape leaves.
Dan: Falafel. No question about it. Like, good New York street-vendor-style falafel, with real lemony tahini, falafel patties that are crispy on the outside and soft on the inside, nice fresh veggies, and a soft pita.
Check out
MeetTheShannons.net
to follow Dan's and Annie's Betty Crocker Project and to get delicious recipes that are sure to impress your friends and family!