Donning black clothes, blindfolds, and gags, Mercy For Animals members held an eye-opening demonstration outside the Iowa Capitol Building on Thursday in response to the recent passage of
whistleblower-suppression legislation
.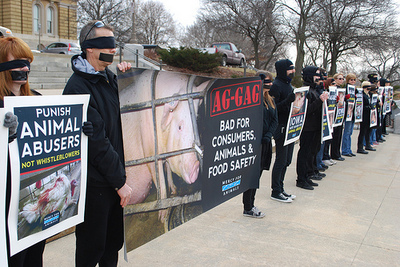 On Tuesday, both the Iowa Senate and House passed a
bill
aimed at preventing farm workers from documenting and exposing acts of cruelty to animals - an effort championed by corporate factory farming interests.
The bill is currently on the desk of Iowa's governor. MFA is urging him to veto this dangerous and misguided legislation.
Wielding signs and banners reading, "Iowa: Safe Haven for Animal Abuse" and "Ag-Gag: Bad for Consumers, Animals and Food Safety" and depicting graphic images of animals suffering on factory farms, MFA volunteers educated countless passersby in Des Moines about the crucial role that
undercover investigations
play in addressing cruelty to farmed animals, ensuring food safety, exposing environmental violations, and protecting workers' rights.
Undercover investigations by MFA and other groups have led to landmark corporate animal welfare policy reforms, felony convictions of animal abusers, and other positive developments. Most recently, our investigation into a
Sparboe-owned egg farm
in Iowa persuaded major companies like McDonald's and Target to drop the egg supplier over cruelty concerns. MFA's investigation last year at
Iowa Select Farms
, the largest pork producer in the state, also led major grocery chains to end their supplier relationships with the facility after hidden-camera video documented pigs locked in tiny cages, and workers throwing, kicking, and mutilating animals without painkillers.
"Clearly Iowa's
factory farms
have a lot to hide if they are willing to go to such despicable measures to hide their cruel and abusive practices from the public," stated MFA's General Counsel Vandhana Bala.
Take Action:
Call Iowa's governor Terry Branstad today at (515) 281-5211 and urge him to veto the ag-gag bill.