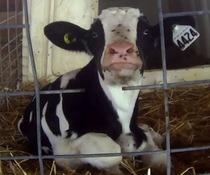 Compassion Over Killing
has released shocking undercover video footage from its recent investigation at Quanah Cattle Co. in Colorado showing newborn calves being violently thrown, slammed against the ground, flipped on their heads, kicked, and dragged from transport trucks.
Most of the animals abused by Quanah are male calves discarded by the dairy industry because they will never produce milk. They are confined to small crates or hutches for about a week before being sold for veal or beef production.
Watch the undercover investigative footage here:
As difficult as this is to see, this type of abuse runs rampant in the dairy industry. In fact, numerous investigations by Mercy For Animals at dairy facilities across the country, including
Willet Dairy
in New York,
Conklin Dairy
in Ohio,
E6 Cattle Co
. in Texas, and
Bettencourt Dairies
in Idaho, have exposed egregious animal abuse from the moment baby calves are born and ripped from their mothers' sides until they are so physically worn out from repeated pregnancies and constant milk production that they are sold for slaughter.
Although horrific cruelty and violence are standard practice in the dairy industry, caring consumers can help end the needless suffering of cows and other farmed animals by choosing any number of healthy and humane plant-based alternatives to milk, cheese, and ice cream. Visit
ChooseVeg.com
to learn more.