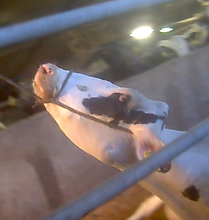 Four workers at a dairy farm that was supplying cheese to DiGiorno Pizza are being charged with a total of 11 counts of criminal animal cruelty. Each count is punishable by up to nine months in jail and $10,000 in fines.
The charges stem from shocking animal abuse captured on a
hidden-camera video
by Mercy For Animals at a Wisconsin dairy farm late last year. Abelardo Jaimes, Crescencio Pineda, Lucia Martinez, and Misael Monge-Minero were charged with violating the state's animal cruelty statute after they were caught on video viciously kicking, beating, whipping, dragging and stabbing cows at Wiese Brothers Farms in Greenleaf, Wisconsin.
MFA praises the Brown County Sheriff's Department and district attorney's office for taking swift and decisive action in pursuing justice for these abused and exploited animals.
Watch the shocking hidden-camera video that led to the charges here:
Mercy For Animals is calling on Nestlé to adopt meaningful animal welfare guidelines, including zero tolerance for kicking, punching and shocking cows; requiring suppliers to prohibit painful and unnecessary mutilations of animals; and requiring suppliers to provide a safe, clean and sanitary environment for cattle. Tens of thousands of consumers have signed a petition at
SliceOfCruelty.com
, urging Nestlé to implement such policies, since the investigation's release.
"These criminal charges should be a wake-up call that heartbreaking animal abuse runs rampant at DiGiorno cheese suppliers. Swift action must be taken to end this unspeakable cruelty. Nestlé has the power and responsibility to implement meaningful policies to end some of the worst forms of animal abuse in the dairy industry," said MFA's executive director, Nathan Runkle. "No socially responsible corporation should support dairy operations that torture animals."
Please take action now to stop this type of blatant animal abuse by signing the petition at
SliceOfCruelty.com
.
After signing the petition, consider making changes in your own lifestyle to help animals by transitioning to a healthy and humane vegan diet. Visit
ChooseVeg.com
to learn more.