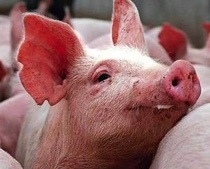 Today, the
Retail Council of Canada
announced that all eight of the country's leading grocery chains, including Loblaws, Metro, Sobeys, and Walmart Canada, are requiring their pork suppliers to phase out inherently cruel gestation crates. These restrictive crates, which prevent pregnant pigs from turning around or lying down comfortably for nearly their entire lives, have been widely condemned as one of the cruelest factory farming practices in the world.
The announcement comes after Mercy For Animals Canada released hidden-camera video from an
undercover investigation at Puratone
, a major Canadian pork supplier, and pressured Loblaws, Metro, Sobeys, and Walmart Canada to do away with gestation crates in their pork supply chains. Showing thousands of pregnant pigs confined for life inside filthy, metal gestation crates barely larger than their own bodies, the shocking expose received national media attention and prompted tens of thousands of Canadians to demand Canadian grocery retailers cut ties with particularly cruel pork producers.
MFA is now calling on Walmart here in the United States to quickly follow the lead of Walmart Canada and more than 50 other major food retailers in North America, by committing to end the use of cruel gestation crates in its pork supply chain. Multiple
undercover investigations by Mercy For Animals at Walmart pork suppliers
in the United States have revealed thousands of pigs crammed inside these metal torture boxes. As the largest retailer in the world, Walmart has the power and the responsibility to end the sale of crated pork.
Watch video footage from MFA's latest Walmart pork investigation here:
Visit
WalmartCruelty.com
to take action and find out more.
While grocery retailers can help put an end to some of the most egregiously cruel factory farming practices, consumers can also help prevent needless cruelty to animals every time they sit down to eat by adopting a healthy and humane,
vegan diet
.