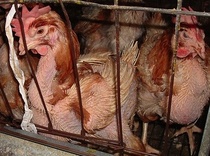 According to the
Associated Press
, Tony Wasmund, a manager for a major Iowa egg producer has pleaded guilty to conspiring to bribe a federal inspector to allow the sale of eggs contaminated with deadly bacteria. Wasmund managed a network of egg factory farms owned by Jack DeCoster, including a facility in Wright County, Iowa that was linked to
one of the largest egg recalls
in US history in 2010.
A
federal grand jury probe
earlier this year revealed that Wasmund knew that eggs from his factory farms were contaminated with deadly salmonella bacteria months prior to the outbreak that sickened thousands of Americans. Prosecutors say Wasmund authorized using $300 in cash to bribe a U.S. Department of Agriculture inspector to approve the sale of contaminated eggs. Wasmund, who could face five years in prison, is the first person to be charged in the government's criminal investigation of the outbreak.
Not surprisingly, Austin "Jack" DeCoster, the egg tycoon linked to the outbreak, has a long history of endangering public health and abusing animals. His 30-year
criminal rap sheet
also includes charges of indenturing migrant workers and exploiting young children, and he has been deemed a "habitual violator" of state environmental laws.
In 2004, MFA investigators documented filthy, disease-ridden conditions at a DeCoster-backed
Ohio Fresh Eggs
facility, including hundreds of thousands of egg-laying hens with broken, damaged, and feces-covered feathers packed into battery cages so small they couldn't spread their wings, and chicken corpses left to rot in cages with birds still producing eggs for human consumption.
A DeCoster egg factory farm in Maine was the subject of
a 2009 MFA undercover cruelty investigation
that revealed hens suffocating in trash cans, chickens kicked into manure pits to drown in liquid feces, and workers whipping birds around by their heads in cruel attempts to break their necks. The investigation led to a raid by state police and DeCoster was ordered to pay more than $130,000 in fines and restitution after pleading guilty to 10 counts of cruelty to animals.
Here is the footage from the 2009 undercover investigation:
The good news is that it is easy to safeguard your health and prevent needless cruelty to animals by simply transitioning to a compassionate vegetarian diet. If you've been thinking about ditching eggs in favor of healthy and humane alternatives, visit
ChooseVeg.com
for tips on
baking without eggs
, delicious
egg-free recipes
and
more
.