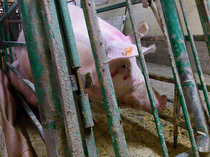 Today, Mercy For Animals Canada is praising the Retail Council of Canada and its member grocers for agreeing to phase out inherently cruel gestation crates in their pork supply chains in favor of "alternative housing practices." Gestation crates, which prevent pregnant pigs from turning around or laying down comfortably for nearly their entire lives, have been widely condemned as one of the cruelest factory farming practices in the world.
In December last year, Mercy For Animals Canada released hidden-camera footage from an undercover investigation at Puratone, a major pork supplier to
Sobeys, Superstore/Loblaws, Metro, Walmart Canada, and other leading food retailers in the country, showing
thousands of pregnant pigs crammed into filthy, metal gestation crates barely larger than their own bodies. The shocking expose received national media attention and prompted over 40,000 Canadians to demand that the nation's grocery retailers cut ties with pork producers that use gestation crates.
Gestation crates are so inhumane they have been banned by the entire European Union, Australia, and New Zealand, as well as in nine US states.
Recognizing their inherent cruelty, Canada's top grocers, including
Co-op Atlantic, Canada Safeway, Costco Wholesale Canada, Federated Co-operatives Limited, Superstore/Loblaws, Metro, Sobeys and Walmart Canada,
are now requiring their pork suppliers phase out these cruel crates.
As stated by Twyla Francois, MFA Canada's director of investigations, "
"We praise Canada's top grocers for making the humane and socially responsible choice to phase out inherently cruel gestation crates. We are pleased that retails have finally listened to their ethically-minded customers and are taking action to end the abusive practice of confining pigs in tiny metal crates so small they cannot even turn around, walk, or lie down comfortably for nearly their entire lives. We also urge Canada's grocers to continue making meaningful progress on farmed animal welfare issues by also committing to phase out inhumane and restrictive battery cages for egg-laying hens and veal crates of baby calves."
As MFA Canada works to expose and end the suffering of animals at the hands of the meat, egg and dairy industries, consumers still hold the greatest power of all to prevent the needless suffering of farmed animals by adopting a healthy and humane vegetarian diet. Visit
ChooseVeg.ca
to download free recipes and tips for making the transition to a vegetarian lifestyle.