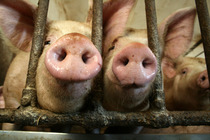 It's official! Every one of the 11 ag-gag bills introduced in 2013 has been defeated. Today, the North Carolina legislature adjourned without passing its version of ag-gag. Earlier this year, Tennessee govenor Bill Haslam vetoed his state's ag-gag bill citing constitutional concerns and saying the bill would make it "more difficult to prosecute animal cruelty cases."
This is certainly cause for celebration! This victory is due in large part to the compassionate MFA supporters who called and emailed their legislators, and the behind-the-scenes efforts of a broad coalition of national groups, working together to stop these shameful attempts by pro-factory farming legislators to criminalize undercover investigations.
One need not look very far to see what the factory farming industry is trying so desperately to hide from the American public. The following are just a few of the undercover investigations into North Carolina factory farms and slaughterhouses that would not have been possible if the ag-gag bill had been in effect.
MFA's investigator secretly filmed workers at the House of Raeford Farms throwing, punching, kicking, and ripping the heads off of live birds. The investigation also exposed workers slitting the throats of conscious and thrashing turkeys--revealing the horrific reality faced by farmed birds, who are exempt from the federal Humane Slaughter Act.
Our undercover investigation at a Butterball turkey factory farm in North Carolina led to arrests and convictions of multiple workers for criminal cruelty to animals, including the first-ever felony conviction for cruelty to farmed birds in U.S. history.
Less than a year after an MFA investigation led to criminal animal cruelty convictions of Butterball workers, a new investigation at multiple turkey factory farms in North Carolina shows that animal abuse continues to run rampant at Butterball. Workers were caught on video kicking and throwing turkeys, violently slamming them into tiny transport crates, and allowing sick or injured birds to slowly suffer and die without proper veterinary care.
Recognizing that their cruel and often illegal animal abuse can't stand the light of day, factory farmers worked hard to keep cameras out of their facilities this year. But Americans stood united against this multi-billion-dollar industry and the corrupt politicians that do its bidding and said: "No to Ag-Gag!"