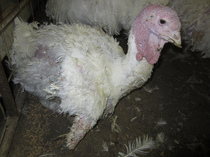 Earlier today, former Butterball employee Ronnie Jacobs pled guilty to criminal cruelty to animals before Judge John H. Horne in Hoke County, North Carolina. This conviction stems from a Mercy For Animals undercover investigation into a Butterball turkey factory farm in 2011. Butterball is the largest producer of turkey in the United States.
MFA's undercover investigation revealed workers violently kicking and stomping on birds, dragging them by their fragile wings and necks, and maliciously throwing turkeys onto the ground or into transport trucks in full view of company management. Workers were also caught on hidden camera bashing in the heads of live birds with metal bars, leaving many to slowly suffer and die from their injuries. Video footage shows Butterball turkeys covered in flies and living in their own waste, and severely injured turkeys, unable to stand up or walk, left to die without proper veterinary care.
Watch the undercover footage here:
Today's guilty plea marks the fifth Butterball employee convicted of criminal cruelty to animals following MFA's investigation. In February 2013, defendants Terry Johnson and Billy McBride were found guilty of animal cruelty after a bench trial, and in late 2012, defendants Brian Douglas and Rueben Mendoza also pled guilty to cruelty to animals. Douglas's conviction was the first-ever felony conviction for cruelty to factory-farmed poultry.
"Due to Butterball's lack of meaningful animal welfare policies, training, or procedures, countless turkeys are subjected to horrific cruelty and neglect each year," said MFA's executive director Nathan Runkle. "Our investigation and the resulting convictions make clear that the secret ingredient in Butterball turkeys is criminal animal abuse."
The best thing consumers can do to reject cruelty to farmed animals is to ditch Butterball turkey, and all animal products, by adopting a healthy and compassionate,
vegan diet
.