By working with restaurant owners to broaden their meatless offerings, and creating online and print resources that map out listings of vegetarian-friendly establishments by region, MFA is transforming the way Americans eat.
MFA's Vegetarian Dining Campaign
includes
VegGuide.org
- a worldwide resource with listings of vegan-friendly businesses by country, state, and city. The interactive website is complete with over 10,000 listings of restaurants and health food stores - featuring establishment locations, sample menus, pricing details and business hours.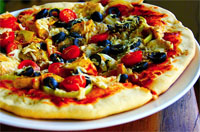 The campaign not only promotes restaurants that already cater to vegans, but works with food providers to expand their meatless offerings. By engaging college dining services, local restaurants, and other food providers,
MFA has been successful
in increasing the number of establishments catering to the vegetarian community. Our
Vegetarian Resource Guide for Restaurants
has assisted food providers nationwide in their journey toward expanding their plant-based cuisine.
The Vegetarian Dining Campaign also extends into the food manufacturing industries - working with companies to "veganize" their products. In early 2009, Mercy For Animals teamed up with
Compassion Over Killing
and the
Animal Protection and Rescue League
to urge mock meat powerhouse, BOCA Foods, to remove eggs from its product line. Within weeks of launching the campaign, which included the site
BocaEggFacts.com
, BOCA issued a statement declaring, "BOCA brand will be eliminating eggs in all of its products by the end of this year. We anticipate all BOCA products will be egg free in 2010."