Mercy For Animals'
Vegetarian Dining Campaign
aims to make going and staying veg easy, convenient and delicious! By working with restaurateurs to expand their cruelty-free options and creating online and print resources that map out vegetarian-friendly establishments by region, MFA is transforming the way Americans eat.
A joint project between MFA and Compassionate Action for Animals,
VegGuide.org
is a powerful online resource filled with over 11,000 listings and reviews of veg-friendly restaurants from around the globe. This regionally organized, user-operated site allows savvy diners to tip-off others in their community about new and exciting veg-dining options around town.
In addition to promoting restaurants that already cater to vegans, Mercy For Animals works with food providers to expand their cruelty-free fare. Our
Vegetarian Resource Guide for Restaurants
is a valuable tool for restaurateurs seeking to increase their plant-based offerings. MFA has been exceedingly successful in increasing the number of mainstream eateries catering to the vegan community.
Through the efforts of
Matt Rice
, Mercy For Animals' New York Campaign Coordinator, pizza lovers in Manhattan can now enjoy an uber-cheesy vegan pie from
Saluggi's in Tribeca
. The pizzeria agreed to test-run
Daiya Cheese
in April and the overwhelming number of vegan cheese orders has kept Daiya a staple at this longtime New York City haunt.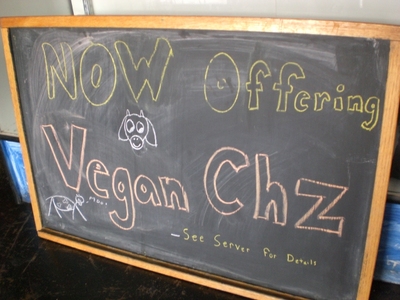 Down in Texas, vegans are going crazy for Sol's Nieto Mexican Grill in Dallas, where an order of vegan nachos means a healthy portion of house-cut tortilla chips loaded with pinto beans, grilled veggies and Daiya Cheddar. All vegetarian dishes can be made vegan by subbing Daiya for dairy, opening-up a whopping variety of veggie options now suitable for vegans. "This is a big win," says
Eddie Garza
, MFA's Texas Campaign Coordinator, "Sol's has been a veggie fave in Dallas for years--the addition of Daiya to their menu could be a gateway for vegetarians to finally take the plunge into a completely cruelty-free diet." We couldn't agree more.