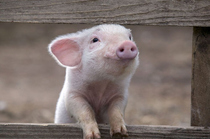 The
Epoch Times
reports that Olymel, Canada's second-largest pork producer, has agreed to
phase out gestation
crates for pregnant sows. The company said the decision was inevitable, citing gestation crate bans in the European Union and in several US states, as well as growing demand from customers who want companies to do away with this inhumane practice. The decision also comes only months after a harrowing undercover investigation by Mercy For Animals Canada at Puratone Farms in Manitoba, which received
national media attention
.
In the United States, almost all major companies, from Safeway and Kroger to McDonald's, have agreed to phase out the use of gestation crates, which confine pigs in spaces so small they can't even turn around or lie down comfortably. However, Walmart, the largest US pork retailer, has refused to budge on the issue. Mercy For Animals has been putting steady pressure on the company to take swift action. From our
full-page ads
in its hometown newspaper to our
Walmart Cruelty Tour
, MFA won't rest until Walmart gets on board and does the right thing.
If you'd like to urge Walmart to ditch these cruel crates,
sign our petition
and share
this video
narrated by
The Price Is Right's
Bob Barker.
To learn more about totally leaving meat off your plate, visit
ChooseVeg.com
.