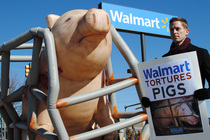 The
Walmart Cruelty Tour
launched by Mercy For Animals last year has now traveled to over 100 US cities urging Walmart to do away with horrible gestation crates. Armed with our ten-foot-tall inflatable pig, we've garnered media attention and raised awareness nationwide. With the second leg of the tour drawing to a close, we sat down with MFA's national campaign coordinator Phil Letten and campaign coordinator Nick Wallerstedt to get the scoop from the road.
You've made over 100 stops so far on the Walmart Cruelty Tour. What have been some of your favorite cities or small towns and why?
We both really liked New Orleans because of the unique culture there. We spent some time in the French Quarter and checked out Bourbon Street.
Austin lived up to its reputation of being the coolest city in Texas.
While in Denver, we went to a Colorado Avalanche game and went sledding with some local vegans.
For our protest in Jacksonville, we stayed in a small town just outside of the city called Atlantic Beach. It was a very relaxing weekend and we even got to go surfing with our hosts.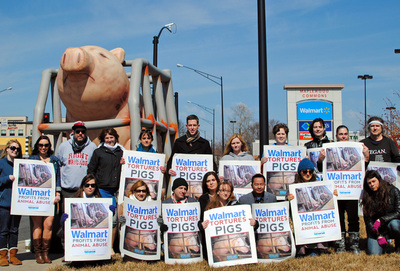 How many hours a day do you spend on the road? How do you pass the time?
It varies depending on what part of the country we are in. I'd say the average drive is about three hours. But we've driven as much as eight to nine hours at once. We pass the time by reading--when we're not in the driver's seat--and listening to podcasts and music on Spotify.
We've seen some of your on-the-go meals show up on the Mercy For Animals Instagram! Where do you usually eat while traveling? What have been some of your favorite meals?
We use VegGuide.org to find the best restaurants in the area that offer vegan options. We both really love thai food so we eat at thai restaurants a lot. If we're in a hurry on the road, we will hit up Taco Bell. We try to keep that to a minimum though.
On average, how many volunteers come out to protest with you? How can people find out when you'll be in their hometowns?
We've brought this tour to a very diverse range of cities from New York and Los Angeles to Midland, TX, and North Platte, Nebraska. The turnout varies and can be as many as fifty volunteers depending on the size of the city.
Your protests feature a ten-foot tall inflatable pig in a gestation crate. What has been the reaction by local media and residents?
The inflatable pig is a real head-turner. People take pictures of it with their cell phones and give us thumbs up and honks of support. We've even had people tell us they would never shop at Walmart again.
We've garnered mainstream media attention at almost every stop of the tour and have been covered by hundreds of media outlets. Each time we get press, tens of thousands of people are exposed to the sad fact that Walmart profits off of the extreme confinement of pigs in crates so small they can't even turn around.
Finally, we know you've seen some zany antics by locals. Can you tell us about the most memorable?
It is very unusual that we face any negative reactions. But during our protest in Birmingham, AL, a radio talk show host and his assistant showed up to the protest with a grill and hot dogs. They were antagonistic at first and set up the grill right next to us.
When doing activism, it's crucial that we don't let things like this get under our skin. We remained calm, professional, and focused on our mission. Within minutes the radio show host pulled a one-eighty and repeatedly declared that Walmart should stop using gestation crates.