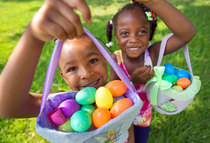 Easter is a time of family and celebration, but unfortunately, it hasn't traditionally been a good day for animals. Millions of families celebrate the holiday by eating an "Easter ham" and decorating eggs for Easter egg hunts without considering
the horrors of the factory farms
where most of these things are produced.
On factory farms, mother pigs used for breeding are typically kept in gestation crates so small they can barely turn around for nearly their entire lives. A Mercy For Animals investigation at a
major Walmart pork supplier
revealed horrific conditions that would ruin anybody's appetite, including workers slamming conscious piglets headfirst into the ground, and leaving sick and injured pigs with bleeding wounds to suffer without veterinary care.
The egg industry is just as appalling. An
MFA investigation at one of the largest egg suppliers in the country
revealed workers burning off young chicks' beaks without painkillers, hens mangled in cage wires and suffering from open wounds, birds crammed in filthy cages with less space than a standard piece of paper to spend her whole life, and hens decomposing in cages with birds still laying eggs for human consumption.
This is no way to celebrate a holiday!
This Easter, check out some of these delicious, fun, and compassionate alternatives:
Instead of decorating actual eggs, buy fun EggNots--vegan-friendly, ceramic eggs made for dyeing, or standard plastic eggs that can be painted, hidden, and reused each year. Click here for dye recipes.
For more tips on compassionate cuisine, or to order your free
Vegetarian Starter Kit
, visit
ChooseVeg.com
.