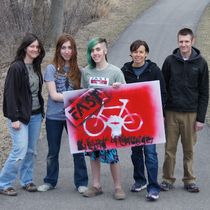 Need some inspiration to get active for farmed animals? Look no further than Chicago's incredible biking team F.A.S.T.--Five Activists Standing Together. John, Jamie, and Mary Jungenberg, Kevin Cooney, and Rachel Shippee take their bikes to the streets to raise awareness about the plight of animals raised for food. Having traveled literally hundreds of miles, this dream team shows no signs of slowing down. We recently spoke with F.A.S.T. about activism, volunteering for MFA, and of course, what they eat on the road.
What sparked your interest in helping farmed animals?
Mary: I have always loved and respected all species of animal. My primary focus is farmed animals because they comprise 99 percent of the animals that are abused in the world. Our family had the opportunity to visit Farm Sanctuary in New York last summer for several days. We were able to spend a considerable amount of time with many of the animals. I will never forget the beautiful cows, goats, sheep, turkeys, and pigs there. They all gave me so much to work for.
How did F.A.S.T. all come together?
Rachel: F.A.S.T. is a creative and fun way to gain attention for an extremely important issue. Not only is it a unique way to travel such a long distance, it's healthy, good for the environment, and we love biking! The idea for the group was spearheaded by John, and from there it's been a combined effort from all members to get this project off the ground. We each have our specific roles, and are extremely dedicated to the project and our mission.
What do you like most about volunteering with MFA?
Jamie: I love knowing I'm actually making a difference in the world. It's often the simplest things--handing out some leaflets, or showing people a four-minute video about factory farming--that make the biggest difference!
What do you feel is the key to success as an activist? Can you give any tips to people wanting to become more involved in farmed animal activism?
John: I think the key to activism is really just getting out there. Once you get used to it you figure out what works best for you. Everyone has their own special talents that they will discover when they start doing activism. Some people will be best at leafleting, some will be best at Paid-Per-Views, and some at protesting.
Activism may seem daunting at first, but just consider how much the animals need your help. Just jump in, and shortly activism will become second nature!
Can you give an example of an interaction you had with someone that was especially uplifting?
Jaime: At a Paid-Per-View event, I had several people watch a four-minute edit of the Farm to Fridge video and tell me they were going vegan or vegetarian. It's incredible to think that a vegan spares 90 animals per year, so that event alone saved hundreds of animals!
Do you find that volunteering takes less work than you initially thought it would?
Kevin: Yes! I can volunteer as my schedule permits. When I am volunteering and interacting with others, it hardly seems like work.
Can you tell us some of your favorite on-the-go foods and restaurants?
Rachel: Apples, bananas, almonds, and granola bars are my favorite on-the-go snacks. When I'm in the city I always make it a point to visit either the Chicago Diner or Native Foods for amazing vegan food.