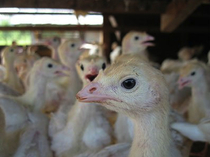 On the heels of the
FDA's recent findings
that 81 percent of raw, ground turkey is contaminated with antibiotic-resistant bacteria, a
new analysis released by Consumer Reports
produced this disturbing result:
In our first-ever lab analysis of ground turkey bought at retail stores nationwide, more than half of the packages of raw ground meat and patties tested positive for fecal bacteria. Some samples harbored other germs, including salmonella and staphylococcus aureus, two of the leading causes of foodborne illness in the U.S. Overall, 90 percent of the samples had one or more of the five bacteria for which we tested.

In addition to the new pathogens Consumer Reports detected, its analysis corroborated the FDA's recent findings, as many of the bacteria discovered displayed "a disturbing level of resistance to some conventional antibiotics."
With all this mounting evidence, it's becoming clear that turkey farming is a dirty business. And hygiene is only one problem.
Undercover investigations
conducted by Mercy For Animals inside turkey factory farms have revealed workers kicking and throwing turkeys, violently slamming them into tiny transport crates, and allowing sick or injured birds to slowly suffer and die without proper veterinary care.
Check out this video obtained by an MFA undercover investigator at a Butterball turkey facility:
The good news is that anyone can take a stand against this dreadful industry simply by boycotting its cruel products. For more information on transitioning to a compassionate and delicious, meat-free diet, visit
ChooseVeg.com
.