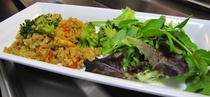 With childhood obesity on the rise, we are in an uphill battle to protect our kids from a laundry list of
preventable diseases
. Sadly, a common place for children to pick up
unhealthy food habits is at school
, the very institution that should be promoting the core principles of healthy living.
That could all change for youth at one
high school in Branford, Connecticut
, where the cafeteria staff recently teamed up with professional vegetarian chefs from
G-Zen Restaurant
to serve up the school's first all-vegan lunch.
Students enjoyed vegan versions of classic dishes like lasagna, vegetable stir-fry, and veggie fried rice. "It tastes amazing!" said one of the students who sampled the cruelty-free grub.
Although this was a one-day affair, it was a step in the right direction for public school menu reform. Now, a slew of schools is following in Branford High School's footsteps and has expressed interest in working with
Chartwells
, the foodservice provider for Branford schools.
G-Zen proprietor Ami Beach Shadles said, "For us, it's a victory. Not only to do a [cooking] demo, but seeing schools offer it right in line with the other choices; at this age level, kids are actually making informed decisions."
Kudos to Branford High School's progressive dining service for promoting a healthy, compassionate vegetarian diet to America's youth. For delicious recipes and tips on transitioning to a plant-based lifestyle, visit
ChooseVeg.com
.
For a free
Vegetarian Starter Kit
,
click here
.