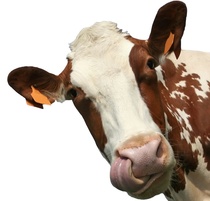 Good news for cows! The National Milk Producers Federation (NMPF)--a trade organization that represents most of the dairy marketing cooperatives in the United States--has
voted
to officially oppose the cruel practice of tail docking cattle. While MFA applauds the NMPF for taking a stand against tail docking, we are disappointed that the trade group recommends a 10-year phase-out period for a practice that would cost the industry nothing to end immediately.
Tail docking cattle is among the most disturbing practices MFA's undercover investigator captured on film at
Willet Dairy
, the largest dairy operation in New York. A worker uses a bladed clamp to slice off the ends of calves' tails, severing nerves, skin, and vertebrae--all without the use of anesthesia. The calves' legs buckle from the pain, as they stagger and stumble to the ground. The worker then applies a smoking cautery device to the amputations.
The practice is opposed by industry representatives, scientists, and animal welfare experts, including the conservative
American Veterinary Medical Association
, which says tail docking is an acutely painful procedure that serves no benefit for animals or dairy workers and can cause chronic, lifelong suffering for animals.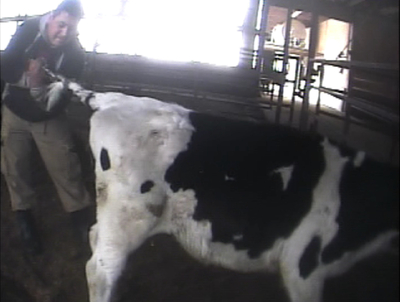 In 2009,
California
--the largest dairy-producing state--banned the practice of tail docking cattle, followed by
Ohio
in 2011. And thanks to countless MFA supporters who responded to our action alerts,
Rhode Island
became the third state to ban tail docking in June of this year.
Following MFA's investigation at Willet Dairy in New York, the company voluntarily agreed to stop tail docking cattle and Assemblywoman Linda Rosenthal
proposed a ban on tail docking of cattle
in the entire state. The investigation also resulted in
a criminal animal cruelty conviction
against a longtime Willet employee, and prompted
Leprino Foods
--a major cheese distributer to Pizza Hut, Dominos, and Papa John's--to drop Willet as a dairy supplier.
Watch MFA's Willet Dairy investigation video here:
While MFA continues to expose the cruelties inherent in dairy production, ultimately consumers hold the greatest power to end the needless suffering of animals by switching to humane vegetarian alternatives to meat, dairy, and eggs. Visit
ChooseVeg.com
to learn more.