Bettencourt Dairies' Dry Creek facility, the subject of a 2012 Mercy For Animals undercover investigation documenting illegal animal abuse, was recently sold to John Glessner, a convicted felon and longtime associate of convicted animal abuser Austin "Jack" DeCoster.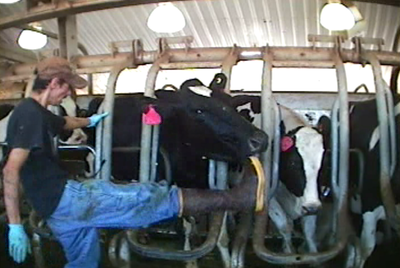 A 2009 investigation by Mercy For Animals at one of
DeCoster's egg factory farms
in Maine led to a raid of the facility by state police on grounds of cruelty to animals. DeCoster pled guilty to 10 counts of cruelty to animals, agreed to pay over $130,000 in fines and restitution, and handed over authority to the state of Maine to conduct unannounced inspections of the facility for the following five years.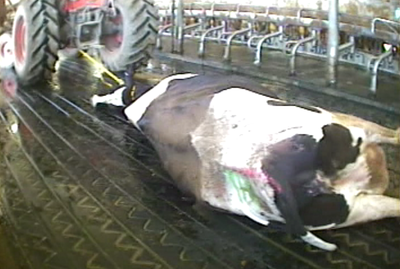 The cows at Bettencourt Dairies' Dry Creek facility have been passed from one cruel hand to another. The horrific animal abuse that occurred at Bettencourt Dairies was documented in a 2012 undercover investigation by Mercy For Animals. Workers were caught on hidden-camera video viciously beating, kicking, and dragging cows and violently twisting their tails in order to deliberately inflict pain. It appears that these cows will fare no better under the new ownership.
Watch the undercover footage from our investigation inside Bettencourt Dairies:
In light of Idaho's new ag-gag law, enacted by corrupt politicians in the pocket of the wealthy dairy industry, there are no longer any effective watchdogs protecting animals from unconscionable cruelty on the state's factory farms or the public from serious health violations. In an age in which people are demanding greater transparency in food production, not less, it is shameful that Idaho's government has ignored the health and safety of its constituents in order to protect the profits of ethically corrupt factory farmers.
In addition to Bettencourt, Mercy For Animals has conducted several
undercover investigations
inside dairies across the country, all documenting horrific animal abuse. Don't want to contribute to animal cruelty? Visit
ChooseVeg.com
today and make the humane choice to
ditch dairy
for good.