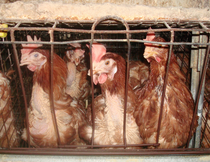 According to the
Star Tribune
, Land O'Lakes, the nation's third-largest egg producer, is planning to sell its egg operations in response to declining profits over the past few years.
With egg operations in California, Missouri, and Maine, the company houses over 16 million egg-laying hens. As the article explains, "the egg business generally is a volatile one, fraught with increasing uncertainty over animal rights issues" and brewing legislative efforts to increase living space are "pressuring egg producers."
Battery cages, where most egg-laying hens will spend the majority of their lives, are typically the size of a file drawer and confine five to seven hens, giving each bird only 67 square inches of floor space -- an area smaller than a notebook-sized piece of paper.
But the horrific abuse of these sentient creatures doesn't stop there.
Numerous
hidden-camera investigations
conducted by Mercy For Animals at the nation's largest battery-cage facilities have uncovered birds living in feces, dead hens left to rot in cages with birds still producing eggs for human consumption, birds suffering from untreated open wounds, infections, and broken bones, and workers breaking birds' necks, kicking hens, and throwing live birds in trash bins.
These practices will not stand the light of day and egg producers are obviously starting to feel it.
Please, help take a stand against the rotten egg industry by choosing
cruelty-free vegan alternatives
.