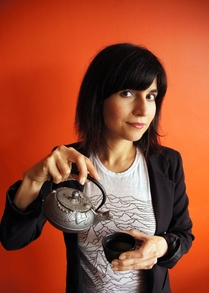 Coauthor of bestselling vegan cookbooks
Veganomicon
and
Vegan Cupcakes Take Over the World
,
Terry Hope Romero
is on a mission to veganize the world one palate at a time! A vegan culinary rockstar and avid comic book lover, Terry talks to us about her new cookbook
Vegan Eats World
- chock-full of recipes inspired by the culturally diverse cuisine of Queens, NYC. In our interview, Terry also shares the story of her transition to a plant-based diet, as well as her favorite vegan comic book hero.
MFA
: You coauthored four of the most celebrated vegan cookbooks on the market, as well as penned two popular solo ventures. Describe the process behind developing your recipes.
Terry Hope Romero
: It requires sacrificing a beet at midnight on the full moon to the dark vegan cookbook gods for a year! That and a lot of research, recipe and essay-style writing, careful note taking, cooking, recipe testing and reworking, and shopping...oh, the near-daily grocery shopping never seems to end. If it sounds like a lot of work, that's because it is!
MFA
:
Vegan Eats World
is a unique international cookbook in that it's really all about Queens - one of the most culturally diverse boroughs of New York City and where you earned your vegan fame. Tell us about that and the types of cuisine you were most excited to take on.
Terry Hope Romero
: Manhattan and Brooklyn get a lot of hype because they attract trendy restaurants and chefs, which is great and all, but so much of Queens is about its huge immigrant culture and the food traditions they bring with them, one of this borough's greatest natural resources! I was super excited to expand my knowledge of Korean, Lebanese, Indian, and a friend taught me how to prepare a lot of intriguing Sri Lankan dishes.
MFA
: With the fall season underway and winter quickly approaching, we'd love to know your favorite foods to stay warm.
Terry Hope Romero
: Soup! After working on
Vegan Eats World
, I'm especially into big, hearty Asian noodle soups that include everything - vegetables, mushrooms, fried tofu, seitan, fresh herb garnishes, curry - in each big steaming bowl.
MFA
: How do you think the perception of vegan food has changed since you became vegan?
Terry Hope Romero
: Well, it's certainly improved and keeps getting better all the time. More non-vegans than ever are truly curious about what vegans eat on a daily basis, and want to incorporate more meatless meals into their week. There's always somebody surprised to learn that it's entirely possible to bake and barbecue as a vegan.
MFA
: How has leaving animals off your plate impacted your life?
Terry Hope Romero
: It's been so long it's hard to say exactly, except that it feels very natural to me. Of course there are always conversations to be had with omnivores; these conversations sometimes impact others to reconsider their own daily food choices too.
MFA
: Do you have any advice for people making the transition to a plant-based diet?
Terry Hope Romero
: Make the transition in a way that works for you, either going in cold un-turkey or gradually phasing out certain foods. Don't compare your progress to others. If you don't already cook, take the time to learn to cook and get the right tools for the right job. And make sure you're having fun doing it!
MFA
: You're known by your fans as an avid comic book lover. What comic books have you been reading lately and who are your favorite characters?
Terry Hope Romero
: My absolute favorite right now is
Saga
. It's kind of like if Guillermo del Toro directed a magical
Star Wars
, but with fresh dialogue and modern, quirky characters. I never was much of a
DC
fan, but I'm loving some of their reboots, including the new
Wonder Woman
,
Swamp Thing
, and the twisted weirdness of
Animal Man
. Buddy Baker (Animal Man) is the superhero for our times. He fights against a massive zombie-like evil, is a champion for the animals, and he's vegan!
To learn more about Terry Hope Romero, visit
VeganLatina.com
.
Go to
ChooseVeg.com
for helpful tips on transitioning to a plant-based lifestyle.
Photos courtesy of Isa Chandra Moskowitz and John Stravropoulos.