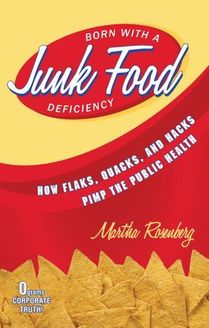 Born with a Junk Food Deficiency: How Flaks, Quacks, and Hacks Pimp the Public Health
is a hard-hitting exposé about Big Food and Big Pharma by leading national muckraker Martha Rosenberg. Based on material from whistleblowers, doctors, scientists, and MFA investigators, Rosenberg examines how the egg don Austin "Jack" DeCoster stayed in business despite 25 years of violations and links to nine human deaths, how federal meat inspectors have become pathetic figureheads in the nation's slaughterhouses--laughed at by plant managers--and how downer cows have contributed to meat production cruelty, including a mad cow risks cover-up by the government. Rosenberg also offers a rare in-depth look, in
Born with a Junk Food Deficiency
, at the use of antibiotics, heavy metals, vaccines, and other veterinary drugs in the meat supply.
MFA:
Your recent book,
Born with a Junk Food Deficiency
, covers many of MFA's undercover investigations from the Norco, Raeford, Gemperle, Quality Egg and Hy-Line egg operations to the Willet, Conklin, and E-6 dairy operations, to Buckeye Veal Farm and Country View/Quality Meats. The
Times of London
and
Library Journal
both compare your book to
Eating Animals
by Jonathan Safran Foer. The Big Pharma portion of the book even relates to animals. Could you elaborate?
Rosenberg:
Big Pharma, which the other half of the book addresses, is an animal issue from animal research and drug testing to the veterinary drugs many people are eating without knowing it. Over-drugged animals are as much a signature of factory farming as abused workers, contaminated products, and polluted environments. But also if the book were just about factory farming, it would preach to the choir--too many animal books are only read by the "converted."
MFA:
This is one of the first animal-related books to trace the evolution of undercover videos on the Web and their effects. You write that, "Revelations of cruelty on US farms often have sensational, 'viral' results" and that customers of factory farms and food consumers can suspend their business. But you also note that prosecuting attorneys seldom bring charges against animal abusers and that "ag gag" laws are now springing up. Can you talk more about the changes undercover videos have made possible?
Rosenberg:
Certainly, a lot more food consumers are reached through the Web. Once upon a time, animal activists targeted government officials who did nothing and now a video will put immediate and direct pressure on food sellers themselves. But a lot of these operations, maybe most, revert to their old ways when their 15 minutes of egregious fame are up and they are protected by state and federal ag officials. A lot of food consumers also still think these videos are exceptions and not the rule.
MFA:
Your book has many cartoons. Do you worry they will detract from its seriousness?
Rosenberg:
Irony is sometimes best conveyed with simple lines and words. In one
cartoon
about a suicide-linked drug, one lab researcher says, "the epilepsy drug test animals didn't kill themselves!" and the other says, "They didn't have epilepsy either!"
MFA:
Born with a Junk Food Deficiency
has been featured on CSPAN2's Book TV, on radio, and in newspapers, and has been bought by libraries, including overseas. Yet its message about dangerous drugs is getting better reviews than its message about factory farming. Why?
Rosenberg:
Personally, when I first read about factory farming over 32 years ago, my immediate and irreversible decision was to renounce meat. But many people, when they hear about meat production, would rather give up reading about it than meat. I think the diaries of MFA investigators, which I quote a lot in the book, are disturbing to some people. But it is only the dedication and bravery of these investigators that has brought these issues out into the open.