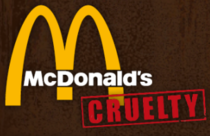 MFA's undercover
investigation into Sparboe Farms
, the fifth-largest egg producer in the country, not only prompted McDonald's, Target, Sam's Club and several other retailers to stop buying from the company, but has also garnered massive mainstream media attention and raised awareness among millions of people about the plights of hens exploited and killed for eggs.
The media maelstrom began with an exclusive story on
Good Morning America
, followed by more in-depth coverage on
World News Tonight with Diane Sawyer
and
20/20
. From there, news of the shocking undercover investigation went viral and was covered by more than 2,000 media outlets worldwide. From national and international media juggernauts to local print, TV and radio stations across the country, here is a quick roundup of just some of that coverage:
Newspapers
Television
Although all of the cruelty to hens and young chicks inflicted by Sparboe for McDonald's restaurants is unnecessary and intolerably cruel, subjecting intelligent and social animals to a lifetime of confinement in tiny wire battery cages so small they are unable to freely spread their wings, perch or roost, breathe fresh air, see the sun or do nearly anything that comes naturally to them is perhaps the cruelest form of institutionalized animal abuse in existence. Unfortunately, more than 95 percent of eggs in this country come from battery-caged hens.
Instead of merely sidestepping the issue of egregious abuse at one of its primary Egg McMuffin suppliers and switching to another egg supplier with equally cruel practices, McDonald's needs to require all of its suppliers to uncage hens and finally give these animals the basic freedom to spread their wings, walk, and engage in basic natural behaviors. Please
click here
to urge McDonald's to end its use of eggs from hens confined in battery cages.
As MFA works to expose and end the exploitation of animals at the hands of the meat, egg and dairy industries, consumers still hold the greatest power of all to prevent needless suffering of farmed animals by adopting a healthy and humane vegan diet. Visit
ChooseVeg.com
for great-tasting recipes and helpful tips for making the transition to a vegan lifestyle.