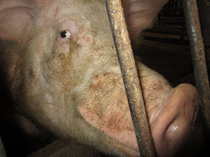 MFA's latest
investigation into Iowa Select Farms
, the largest pork producer in Iowa and fourth-largest in the nation, has garnered tons of mainstream media attention and raised awareness among millions of people about how the majority of pigs are raised and killed for food in the United States.
From national and international media juggernauts to local print, TV and radio stations across the country, here is a quick roundup of some of that coverage:
Print
Television
While all of the violence documented at Iowa Select, including management training workers to throw piglets across the room before slicing into their sensitive skin and ripping out their testicles with their fingers, is unconscionably cruel and unnecessary, subjecting intelligent and social animals to a lifetime of confinement in narrow metal gestation crates so small they are unable to turn around or lie down comfortably for nearly their entire lives is perhaps the cruelest form of institutionalized animal abuse in existence.
Sadly, grocery giants Kroger, Costco, Safeway, and Hy-Vee condone confining animals in crates barely larger than their bodies by selling pork from producers who use gestation crates - including Iowa Select Farms. These corporations have both the power and ethical responsibility to ensure the products in their stores come from producers that have committed to ending the cruelest factory farming practices. Please take a moment to
contact these grocery chains and urge them to take a stand against animal abuse
by requiring their pork suppliers to phase out gestation crates.
As MFA works to expose and end the exploitation of animals at the hands of the meat, egg and dairy industries, consumers still hold the greatest power of all to prevent needless suffering of farmed animals by adopting a healthy and humane vegan diet. Visit
ChooseVeg.com
for great-tasting recipes and helpful tips for making the transition to a vegan lifestyle.