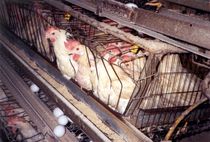 According to a recent article in the
Des Moines Register
, more than a year after 1,900 people were sickened and half a billion salmonella-poisoned eggs from Iowa were recalled, Food and Drug Administration (FDA) inspectors continue to document unsanitary conditions and public safety hazards at Iowa egg farms. The article states that instead of issuing fines or penalties, however, the FDA has been covering up these violations by blacking out critical elements of reports and withholding key information from the public - including brand names under which potentially contaminated eggs are sold.
Iowa is the leading egg-producing state in the country, and one of the leading egg producers in Iowa is a man named
Austin "Jack" DeCoster
- whose criminal
rap sheet
includes charges of indenturing migrant workers, exploiting young children and being deemed a "habitual violator" of state environmental laws by the Iowa Attorney General. DeCoster's egg farms were also at the center of one of the
largest egg recalls
in United States history last year, and following an
MFA undercover cruelty investigation
at one of his egg factory farms in New England, DeCoster pleaded guilty to 10 counts of cruelty to animals and paid over $130,000 in fines and restitution.
Despite these repeated violations of state and federal laws, DeCoster and other egg industry giants continue to get a free pass to endanger public health, the environment and animal welfare. While the FDA fails to hold the egg industry accountable for food safety violations, some
pro-factory farming legislators
in Iowa have been pushing to criminalize whistleblowers in order to further protect factory farmers from public scrutiny - a testament to the power of this multi-billion dollar industry.
However, the egg industry's power is beginning to wane as the public becomes increasingly aware of its
rotten practices
. In fact, according to
The Wall Street Journal
, the demand for eggs has been steadily declining every year since 2006. Egg farms are now even losing money around
Easter
, which had typically been the third-busiest time of the year for the industry.
If you've been thinking about ditching eggs in favor of healthy and humane vegan alternatives, visit
ChooseVeg.com
for tips on
baking without eggs
, delicious
egg-free recipes
and
more
.