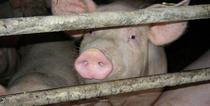 David A. Kessler, a former commissioner of the U.S. Food and Drug Administration (FDA),
took to the pages of the New York Times
to air his grave concern over the lack of transparency regarding antibiotic usage on industrial animal farms. According to Kessler, the industry is withholding information on dosage and type of antibiotics fed to farmed animals from the FDA. This has led to a dangerous lack of oversight, as these drugs fed to healthy animals can create a breeding ground for antibiotic-resistant "super bacteria" that can infect people.
In 2011,
30 million pounds of antibiotics were sold for farmed animals
, the largest amount ever recorded, accounting for 80 percent of all antibiotics sold in the United States. But despite the work of several congressmen, specific data on types and dosages has eluded the FDA.
Antibiotics are often fed to animals at low doses to
promote rapid growth
and suppress disease. Alexander Fleming, who accepted the Nobel Prize for his discovery of penicillin, warned of the risks of underdosing: "There is the danger that the ignorant man may easily underdose himself and by exposing his microbes to nonlethal quantities of the drug make them resistant." With billions of farmed animals consuming low levels of antibiotics, we can only imagine what superbugs may be on the horizon.
The sad fact is that farmed animals are fed antibiotics in the first place to counteract the
abominable conditions in these horrible factory farms
. Animals on modern day farms are kept in spaces so small they can't even turn around or lie down comfortably. Many are made to stand in their own feces and urine. This sheer filth, stress, and utter despair create the perfect environment for bacteria to spread.
The best way to protect yourself from disease and prevent cruelty to animals is to leave meat, eggs, and dairy off of your plate. For information on how to transition to a healthy and compassionate, vegan diet, visit
ChooseVeg.com
.