Our amazing volunteer, Jenni Rempel, put together this fantastic guest blog for us. Check it out!
This was a busy weekend for Mercy For Animals as Earth Day and green living celebrations were in full swing. MFA appeared at 11 events across the nation, everywhere from Seattle, Omaha, and Dallas to Phoenix, Cleveland, and New York City.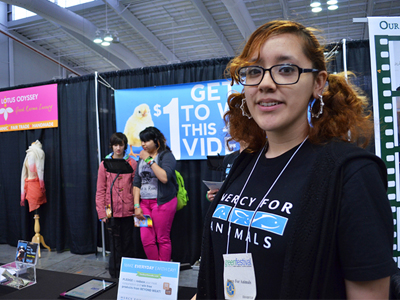 Numerous volunteers joined in MFA's Paid-Per-View outreach, persuading hundreds of people to watch our
Farm to Fridge video
, and educating people of all ages about the sad realities of factory farming. We were hard at work passing out
Vegetarian Starter Kits
and sharing information about all of the
green
and
ethical reasons
to go vegan.
This weekend we also celebrated the launch of our latest campaign,
The New Three Rs
, which informs people of the importance of reducing their meat consumption and the role it plays in environmental protection. Many people pledged online to rethink their diets via MFA's
new website.
And the fun continues! Look for us again at
Columbus Earth Day
,
Louisville Everyday Action Festival
, and
Baltimore Veg Fest
. Join the movement to protect the planet and help animals by
signing our pledge
and you'll also be entered to win free products from
Beyond Meat
. In addition, share the pledge with family and friends to increase your positive impact this Earth Day.