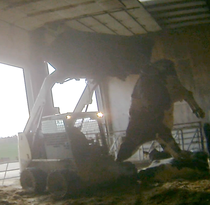 After being caught on hidden camera beating, kicking and stabbing cows, Abelardo Jaimes and Lucia Martinez pled no contest to a total of 3 counts of animal cruelty today in Brown County Circuit Court. Their convictions come after an undercover investigation by Mercy For Animals at Wiese Brothers Farms in Greenleaf, Wisconsin, documented Jaimes and Martinez viciously kicking, whipping, beating and stabbing cows in the face and body.
Following the release of Mercy For Animals' graphic footage, two other Wiese Brothers Farms workers were also charged with multiple counts of criminal animal cruelty. Their cases are still pending.
Watch the shocking undercover video here:
Mercy For Animals praises the Brown County Sheriff's Department and District Attorney's Office for taking swift and decisive action in pursuing justice for these abused and exploited animals.
At the time of Mercy For Animals' investigation, Wiese Brothers Farms was a cheese supplier for DiGiorno Pizza -- the nation's largest frozen pizza manufacturer. Mercy For Animals is calling on DiGiorno Pizza, owned by Nestlé, to adopt meaningful animal welfare guidelines, including zero tolerance for kicking, punching, and shocking cows; requiring suppliers to prohibit painful and unnecessary mutilations of animals; and requiring suppliers to provide a safe, clean, and sanitary environment for cattle.
This is the fifth
undercover investigation
by Mercy For Animals in recent years that has led to animal cruelty convictions against workers at dairy factory farms, illustrating the rampant animal abuse allowed to fester, undetected and unaddressed, throughout our nation's dairy industry.
The only way to ensure sensitive cows are not victims of such horrific cruelty is to ditch dairy for good. Visit
ChooseVeg.com
for dairy-free recipes and tips today.