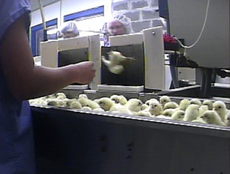 On Tuesday, MFA broke its
most recent undercover investigation
- exposing chicks being thrown, dropped, hung, mutilated without painkillers, and ground-up alive at the world's largest egg industry hatchery.
Following the release of the undercover footage to the
Associated Press
, and three news conferences in Iowa, the shocking video depicting male chicks being torn apart in a massive grinder has made headlines around the world. From Cleveland to China, Australia to Austin, consumers worldwide have been given an eye-opening look into the cruel and violent truth behind the modern egg industry.
Over a million people have logged onto YouTube
to view the heart- wrenching hidden camera footage - making it yesterday's #2 most "viral" video on the entire Internet.
Here is a quick round-up of some of the over
500 news stories
on MFA's investigation - which has put farmed animal cruelty on center stage and brought the discussion of the egg industry's best kept secret - that over 200 million "useless" male chicks are killed each year - into the public consciousness.
Newspaper Coverage:

Chicks Ground Up Alive at Egg Hatchery
Time Magazine

Animal rights group video shows unwanted male chicks ground up alive at Iowa egg hatchery
Los Angeles Times

Video Shows Chicks Ground Up Alive at Egg Hatchery
New York Times

Chicks Being Ground Up Alive Video
The Huffington Post

Chicks 'ground alive' by poultry producer
The Australian

Video highlights egg industry's practice of killing male chicks
Minneapolis Star Tribune

Baby chicks ground up alive: animal rights video goes viral
BoingBoing

Baby chicks ground alive by poultry producer: activists
AFP

Mercy for Animals uncovers baby chick abuse
Examiner.com

Chicks 'ground alive' by poultry producer
News.ca.au

Baby chicks ground alive
iafrica.com

Baby chicks 'torn to pieces' while alive
LiveNews.com.au

Baby chicks ground alive by poultry producer, claim activists
USA FoodWeek

Video Shows Price of Cheap Eggs: Chicks Ground Up Alive
Best Syndication

Video shows chicks tossed alive into grinder
Dallas Morning News

Hatchery Grounds Chicks Alive, Says Mercy For Animals
The Inquisitr


Television News Coverage:

Video shows live chicks dumped in grinder
MSNBC

Video Shows Cruel Treatment of Baby Chickens
AP TV

Video Shows Chicks Ground Up Alive at Egg Hatchery
FOX News

Animal Rights Group Accuses Hatchery Of Cruelty To Animals
KEYC

Animal Rights Group Accusing IA Company of Grinding Up Live Chicks
KEYC

Undercover Video Shows Cruelty In Egg Hatchery
KWTV

Video Shows Hatchery Grinding Chick Alive
KSFY

Group Accuses Iowa Hatchery Of Mistreatment
KCCI

Undercover Video Alleges Animal Cruelty at NW Iowa Hatchery
KCRG


Radio Coverage:

Video shows chicks ground up alive at egg hatchery
NPR

Group claims animal cruelty at Spencer hatchery
Iowa Radio


Blog Coverage:

Undercover Egg Industry Investigation Shows Chicks Ground Up Alive
Change.org

New Investigation Exposes the Horrors of Egg Production
Striking at the Roots

Graphic Undercover Video of Male Chicks Killed in Hatchery
Opposing Views

Hy-Line hatcheries, industry gold
Animal Place

Such far-reaching outrage over the standard and acceptable
egg industry
practice of grinding up fully conscious chicks, shows how important farmed animal protection issues are to the vast majority of Americans. Hopefully
this investigation
will serve as a wake-up call to compassionate consumers nationwide, prompting many to ditch eggs and enjoy the
many delicious vegan alternatives
instead.