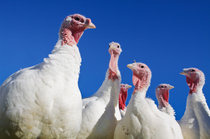 The
Thanksgiving
season is the perfect time to wield the power of the pen to help animals. Print and online newspapers are looking for turkey-related topics to cover, so even one well-written and thought-provoking letter to the editor can reach thousands of consumers with a message of compassion for farmed animals. And the good news is that writing a letter to the editor can be easy and fun, as well as an extremely effective way to spark a discussion about positive social change.
Ready to get started? Here are some helpful tips for writing winning letters to the editor:
Review the newspaper's letter-writing guidelines. They are often available on the newspaper's website under the Opinion and/or Contact Us sections.
Open your letter with an interesting fact or strong statement that will catch your readers' attention.
Reference the newspaper. If you refer to a previously published news story in the newspaper, identify it by its headline and the date it was published.
Be brief. Most papers have a word limit, and shorter letters have a greater chance of being read. Aim for 100 to 150 words.
Keep it accurate and respectful. Draw from your own experience, or support your letter with facts.
Close the letter with a call to action. Explain how readers can help and where they can find more information about the issue.
Check it over. Make sure you've used correct grammar and spelling, and consider asking someone with good language skills to proofread your letter.
Sign your letter. Include your full name, address, e-mail address, and telephone number. Many newspapers will only print a letter to the editor after calling the author to verify his or her identity.
Send your letter by e-mail if possible. Be sure to send the letter in the body of an e-mail, not as an attachment. Here is a handy Letter to the Editor Contact List.
Think big and small. Of course, the bigger the paper the more people you will reach. But don't forget to send letters to smaller papers too. Smaller papers can mean a greater chance of getting published. And even small weekly papers can help you reach hundreds or even thousands of people with your message.
While letters written in your own words are best, here are some key points you may want to use:
Why not give turkeys something to be thankful for this Thanksgiving? Consider leaving the turkey off your plate and instead sponsoring a rescued bird at a sanctuary for farmed animals.
More than 300 million turkeys are slaughtered for food in the U.S. each year. Much like the cats and dogs with whom we share our lives, turkeys are intelligent and playful animals, who enjoy the company of others.
In the wild, turkeys are agile and can run 25 miles per hour. On factory farms, turkeys are crammed into windowless and disease-ridden sheds by the thousands. They are bred to grow so large and so quickly that they often become crippled under their own weight.
Turkeys are routinely mutilated without painkillers and abused in ways that would warrant felony cruelty charges if cats or dogs were the victims instead. Visit MeatVideo.com to see how these animals are treated when the industry doesn't think anyone is watching.
At the end of their painful lives, turkeys are violently loaded onto transport trucks and shipped to slaughter. They are then roughly snapped into moving shackles and have their throats slit, often while they're fully conscious.
Thankfully, each of us can take a stand against cruelty to turkeys and other animals by adopting a healthy and humane vegetarian diet. Visit ChooseVeg.com for hundreds of delicious recipes.
Try carving out a new Thanksgiving tradition by carving into any number of delicious vegetarian mock-turkey alternatives. Your health and the turkeys will thank you!
Good luck, and please
let us know
if your letter is published. Remember, without you the animals have no voice.
P.S. While you're at it, why not take a moment to help motivate your friends and family to spare a turkey by sharing MFA's powerful Thanksgiving PSA on Facebook and other social networking sites?