It is with great excitement that we announce to you that Mercy For Animals is expanding its vital campaigns on behalf of farmed animals to the lone star state - opening an office in Dallas, Texas!
With this expansion we are also opening a Texas Advocacy Center, centrally located in Dallas. Now, with our new Advocacy Center, we'll be able to do more than ever to involve more activists in our groundbreaking work to protect animals. Check out these photos of the Advocacy Center.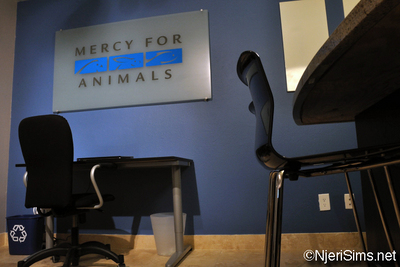 Our new center is so much more than an office; it will serve as a vital resource and clearinghouse of opportunities, information, and support for activists interested in protecting farmed animals! We will offer:
For more information on the center, and to get active with MFA in Texas please email Eddie at EddieG@MercyForAnimals.org.
Thank you for all of your
continued support
- which has allowed MFA to broaden its vital campaigns to Texas, one of the most influential and dynamic cities in the nation. Your involvement and dedication have enabled us to move closer to the day when all animals are treated with the respect and compassion they deserve.