Controversy continues to broil over state legislation attempting to ban the filming of factory farms. Following the
Des Moines Register's
editorial
decrying an Iowa bill on constitutional grounds, dedicated animal advocate and television news journalist Jane Velez-Mitchell has spoken out against these shameful efforts to criminalize undercover investigations.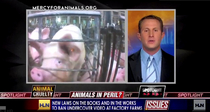 Jane was joined by Paul Shapiro of The Humane Society of the United States. Discussing the motivation behind pro-factory farm legislation in Iowa and Florida, Mr. Shapiro explained: "These are outrageous bills that are intended to keep the American public in the dark when it comes to the routine cruelty that animals face on
factory farms
." He added: "We need to let our legislators know that we want to see reform of these animal factories, not pushing them further and further into secrecy."
If you haven't already, please take action by
filling out this form
and voicing your concerns to Iowa's lawmakers. Politely urge them to vote against this misguided legislation that would silence whistleblowers, while helping the meat, egg, and dairy industries to abuse farmed animals away from the public's view.