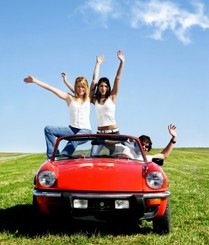 With fall air biting at our noses and winter not far on the horizon, plenty of folks across the country are already planning holiday vacations. What better way to spend a holiday than on the road with nothing but a map and a few close companions? Maintaining a cruelty-free diet on the road can be a fun and exciting adventure, and with these simple tips it's easy to tour the continental US vegan style.
Bring snacks. Portable, non-perishable food will come in handy for long stretches of road. Nutrient-packed snack bars like Clif Bars, Luna Bars, and Lara Bars all offer a wide selection of vegan options. Good Health Natural has many travel-friendly snacks such as their popular Veggie Stix Veggie Chips, but they're hard to put down, so be sure to pack a few bags!
Know your gas station foods. Many roadside stops contain well-equipped mini markets that offer fruit and nuts. You can find many veg-friendly snacks lining the shelves, including Snyder's of Hanover Pretzels, a wide array of Frito-Lay Chips and other chip brands, and original Chex Mix. Many varieties of trail mix are free of animal ingredients, just be sure to check the label! To satisfy your sweet tooth, grab some Skittles for the road. Some 7-Eleven's also offer prepackaged vegan meals in their refrigerated sections.
Plan your meals ahead of time. Before setting out, make a list of veg-friendly establishments to stop at along the way, or make them the destinations! Whether your route entails big cities or small towns, research local vegan hotspots, and keep an eye out for veg-friendly fast-food locations. Taco Bell, Subway, Au Bon Pain, Chipotle, and Denny's are just a handful of the dozens of chain restaurants that are eager to cater to hungry veggie travelers.
Your mobile device is your friend. VegGuide.org can be accessed from your phone and will point you in the direction of any nearby vegan and vegetarian cuisine. Animal-Free, another mobile app, offers a comprehensive list of animal and non-animal ingredients to come to the rescue in any dire "Is it vegan?" situation you may find yourself in along your journeys.
Wherever your trip takes you, be sure to check out
ChooseVeg.com
for delicious holiday recipes and tips on cruelty-free living.