Hundreds of proud vegetarian and vegan New Yorkers marched through the streets of the city during the
3rd annual Veggie Pride Parade
.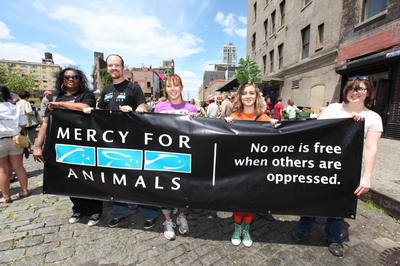 Photo credit: Exercise Compassion.

Many marchers displayed elaborate veggie costumes, green hair and outfits and creative signs and banners to express their love of all things veggie.
The parade culminated at Union Square where an estimated 1,500 people were able to listen to inspiring talks from noted animal rights leaders, enjoy free vegan food and visit exhibitor booths staffed by a variety of pro-veggie organizations including Mercy For Animals.
Visit
ChooseVeg.com
for tips on marching toward your own vegan lifestyle.