Cruelty On ScreenDo Online Videos of Farmed Animal Cruelty Change People's Diets and Attitudes?
In an effort to move the public toward vegan eating, Mercy For Animals and other groups often share online videos of farmed animal cruelty.
One way they do this is by running online ads that lead people to a landing page with video of farmed animal cruelty like this one. But is that an effective strategy? Does watching video of farmed animal cruelty actually change people's diets and attitudes?
To find out, we contracted with the independent research firm Edge Research to conduct an experiment: We ran ads like this one on Facebook targeting women ages 13–25. Half of the people who clicked on the ad—we'll call them the experimental group—were randomly sent to our regular landing page with video of farmed animal cruelty.
The other half who clicked—we'll call them the control group—were randomly sent to a different landing page that looked similar but focused on an unrelated social issue, fighting tropical diseases.
By comparing the experimental and control groups over the next few months, we could see whether the farmed animal cruelty video impacted diets and attitudes. (If we saw differences between the two groups, it would likely be due to the video, as the people in each group were similar in almost all respects except for which video they viewed.)
Two to four months later, participants from both groups were encouraged to fill out a survey about their diets and attitudes. Around 800 people from each group did so. Edge Research then "weighted" the data so the respondents from each group were identical in gender, geography, and age.
Finally, Edge compared the groups' answers to see whether the farmed animal cruelty video had an impact. Here's what Edge and MFA found.
Special thanks to Peter Hurford, David Chudzicki, Allison Smith, Jeff Kaufman, and several anonymous donors for their financial support for the study, and to Peter Hurford for work on the study design.
Consumption of Animal Products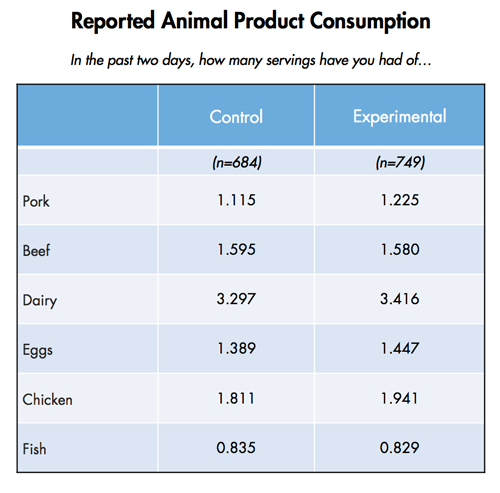 We asked participants how many servings of beef, pork, chicken, fish, eggs, and dairy they had consumed over the previous two days. We didn't find a statistically significant difference in reported diet between the two groups.
The experimental group actually reported eating slightly more animal products, but the difference was not significant. That means the difference may well have been due to chance.
Is it possible showing people cruelty to farmed animals increases meat consumption? It's a frightening proposition that should be studied. However, since other studies have found that showing footage of farmed animal cruelty decreases meat consumption, and since the difference in our study was not close to statistically significant, we think it's unlikely.
Because of the extremely low power of our study, we don't actually know whether the two groups' diets were the same or slightly different. Our study was powered to detect a 10% difference between the groups, and since the differences between the groups were much smaller than that, we can't be confident about whether the differences between the groups were due to chance or were the true group means. So unfortunately, our pool of participants wasn't large enough to answer our key question. Based on our study design, it appears we would have needed tens to hundreds of thousands of participants to properly answer this question.
The bottom line is this: We don't know whether showing people farmed animal cruelty video in this context will cause them to slightly increase, slightly decrease, or sustain their consumption of animal products a few months later.