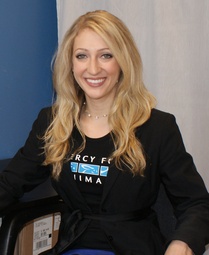 Ever wonder what it would be like to live in the Windy City advocating for farmed animals? We caught up with Nicole Moore Eisenberg, a current
intern at our Chicago office
, and asked her to give us the scoop.
A marathon runner with a communications background, Nicole adopted a
vegan diet
in 2009 to quell her conscience after years of stubbornly tuning it out. After going veg, this Chicago resident made tons of new friends in the Chicago vegan community, adopted a rescue dog, Ezra, and marched with MFA in two Chicago Pride Parades before starting her internship last month. She has also run two marathons and plans to complete her third in the spring, hoping to influence a few other runners along the way.
What first inspired you to become a vegan?
I remember seeing very upsetting footage of factory farms as far back as 2003. I was an undergraduate at the time and I was horrified at what I saw.
Why did you choose to intern with MFA?
Not only do I wholeheartedly agree with all MFA positions and campaigns, but I also respect the way MFA communicates with the public. MFA never loses sight of the facts and constantly inspires with impactful, timely, in-depth information.
What do you like most about interning with MFA?
Working with Mikael Nielsen is wonderful! His energy is infectious and he has taught me a lot about the mechanics of leafleting. As someone brand new to leafleting, I feel like MFA gave me instant confidence through educating me on effectively interacting with individuals on the street.
You were recently married and had an all-vegan wedding. Can you offer any advice for anyone else wanting a vegetarian or vegan wedding?
Yes! If you are considering a vegan or vegetarian wedding, just do it! We found that not only were traditional catering vendors very open to going 100% plant-based, they also made delicious vegan food!
Have you had any memorable experiences since starting your internship with MFA?
Yes, I have had many. Every time I leaflet, I encounter a few individuals, who initially turn down a leaflet and continue walking, then reconsider and stop in their tracks to turn around and grab one. It makes my day every time!
Inspired?
Click here
to learn about MFA's internship program and
apply today
for an exciting internship in one of our campaigns offices.