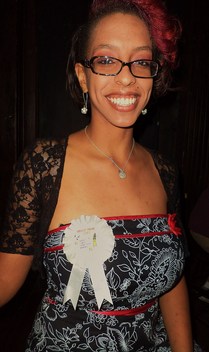 Ever wonder what it would be like to intern with
Mercy For Animals
? We interviewed Tyisha Shaia, who recently completed an internship at MFA's New York office, and asked her to give us the scoop.
A native of Tampa, Florida, Tyisha adopted a vegan diet after making the connection that farmed animals are just as important as the cats she grew up with and called her friends. In addition to advocating for animals, Tyisha is a seasoned activist for multiple social justice issues, with a special passion for promoting LGBTQ equality. When not advocating for human rights and animal rights, Tyisha spends her down time catching up on reruns of Logo's
RuPaul's Drag Race
and
Drag U
.
What first inspired you to become a vegan?
I first knew that I had to go vegan after seeing an undercover investigation of
Conklin Dairy Farms
that Mercy For Animals conducted. It took me a while to adapt, but I was finally able to eliminate all animal by-products from my diet and I've never felt better.
What is your favorite vegan/animal rights resource?
ChooseVeg.com
is hands down the best resource for people wanting to make the vegan leap. It's packed with tips, recipes, and information on why a vegan diet is what's best for the animals, the earth, and yourself. When people want more info on veganism, it's the first website I send them to.
Why did you choose to intern with MFA?
I knew that I wanted to delve into the world of animal activism. So, what better organization to do it with than Mercy For Animals? Being highly respectable and extremely efficient in delivering their message, MFA was the clear choice for seeking an internship.
What did you like most about interning with MFA?
My favorite part of the internship was hosting
Paid-Per-View
events. I really enjoyed meeting new and amazing people every day. At Paid-Per-View events, you get to see change happen immediately and it's amazing to be a part of. I also got to meet all kinds of people on a regular basis, from established animal rights advocates to interested people who just want more information on how they can switch to a plant-based diet and help themselves while helping animals.
What is the key to your success as an activist?
For me, I think patience, passion, and persistence are essential. Patience is a must because most people won't change overnight. Passion is crucial because it will be the only thing you have when you feel like no one is listening. And persistence is mandatory because it tends to take multiple tries before getting people to transition to any new lifestyle. If you have those three qualities, fighting for your cause will be much more rewarding.
Can you offer any insight for others interested in becoming involved with animal rights activism?
Dive right in. There's no use in feeling nervous or anxious or waiting for the right time. Now is the time! Be a voice for the voiceless and everything will fall into place. Do what you can to get in with a great organization like Mercy For Animals and people will help guide you along the way.
Inspired?
Click here
to learn about MFA's internship program and
apply today
for an exciting internship in one of our campaigns offices.