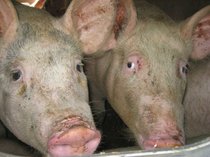 The USDA's Office of the Inspector General (OIG), the department's watchdog, released a
disturbing report
condemning the department's oversight of pork slaughterhouses. In addition, the OIG came out strongly against a pilot program that allows pork farmers to speed up the kill line, slaughtering even more pigs per hour, and to operate with fewer inspectors on hand. This program is similar to those recently implemented for turkey- and chicken-processing facilities.
The OIG cited "egregious" and repeated health and animal welfare violations that seemed no cause for concern for hog farmers, who took no action to rectify them. The violations included fecal contamination of carcasses that had already been "cleaned" and pests on the kill floor.
The USDA hog inspection service issued 44,128 noncompliance citations to 616 plants between 2008 and 2011, but suspended only 28 percent of them. Many of the citations were for the same offenses, pointing to a culture of disregard for human health and animal welfare.
Simply put, pig farming is a dirty,
inhumane business
. It's also increasingly dangerous, as
mysterious, explosive fecal foam
has emerged from manure pits on roughly 25 percent of US pigs farms.
The best way to take a stand against pig farming and other factory farm horrors is to choose plant-based alternatives to meat, eggs, and dairy. For tips, tricks, and recipes, visit
ChooseVeg.com
or order our brand-new
Vegetarian Starter Guide
.