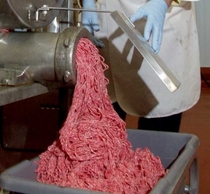 A comprehensive yearlong investigation by the
Kansas City Star
, which tracks dozens of news stories and articles from various sources, has found serious risks associated with beef production and slaughterhouse conditions, including fecal contamination and overuse of antibiotics, which may help explain antibiotic-resistant bacteria in humans.
The Star
reports: "The industry increasingly relies on a mechanical tenderization process, increasing E. coli risks. Meanwhile, doctors and USDA say antibiotic overuse is leading to resistant bacteria in humans. And with consumption down, beef is fighting back with efforts to influence U.S. dietary guidelines."
A recent
Huffington Post
article corroborates the
Star
's findings, noting that "just four companies process more than 87 percent of the beef packed in the U.S., and take advantage of novel, money-saving techniques that significantly increase the risk of contamination by food-borne pathogens, leading to hundreds of preventable illnesses every year."
Mercy For Animals' slaughterhouse investigations have documented the filthy conditions and egregious mishandling to which farmed animals are subjected. In these dire environments, animal cruelty and human health hazards run rampant.
Thankfully, an easy and effective way to make healthy and compassionate dietary choices is to adopt a plant-based lifestyle. For more information on how to embrace this change, visit
ChooseVeg.com
.