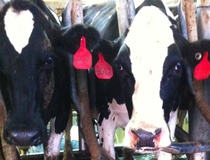 MFA's
undercover investigation at Bettencourt Dairies
, the largest dairy factory farm in Idaho, has prompted Kraft Foods to
announce a new policy
requiring all its dairy suppliers to phase out the cruel practice of tail docking cattle, among other important animal welfare policies. The announcement marks the first of its kind by a major food provider, and will hopefully inspire others to quickly follow suit.
Tail docking is an outdated practice that involves cutting through the sensitive skin, nerves, and bones of calves' tails without any painkillers. Despite condemnation by animal welfare experts of this practice as purposeless and cruel, the majority of calves born in the US dairy industry are still subjected to this painful mutilation.
As the largest food company in the United States, Kraft's announcement to ban the tail docking of cattle in its supply chain is sure to send shockwaves throughout the dairy industry and could finally put an end to this practice, which has been decried by the American Veterinary Medical Association and outlawed in California, Ohio, and Rhode Island.
Watch the undercover video that led Kraft to agree to improve its animal welfare standards here:
Unfortunately, while Kraft has taken a step to help end many of the shocking abuses caught on tape at this dairy factory farm, Burger King - another major food retailer linked to Bettencourt Dairies - has yet to require its cheese suppliers to make any meaningful animal welfare improvements. No socially responsible corporation should support dairy operations that beat, kick, mutilate, confine, and neglect animals.
MFA is urging Burger King to immediately adopt meaningful animal welfare guidelines, including:
committing to ending its supplier relationship with dairy facilities caught punching, kicking, dragging, electrically shocking, or otherwise abusing animals
requiring dairy suppliers to provide a clean and sanitary environment for cattle
requiring dairy suppliers to provide proper care and transportation for sick, injured, and downed animals
requiring dairy suppliers to eliminate painful mutilations without anesthesia, including the cruel practice of tail docking cattle
Go to
BurgerKingCruelty.com
to sign the petition urging Burger King to require its cheese suppliers to implement meaningful animal welfare standards.
While Burger King has the power and the ethical responsibility to help end some of the worst forms of animal abuse in the dairy industry, concerned consumers can help prevent needless violence and cruelty to animals by ditching dairy in favor of healthy and humane plant-based alternatives to milk, cheese, and ice cream. Visit
ChooseVeg.com
to learn more.