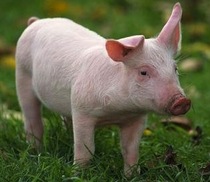 Yesterday, Kroger - the largest traditional grocer in the United States - officially announced that it would begin encouraging its suppliers to accelerate the transition to crate-free pork. "
Kroger believes that a gestation crate-free environment is more humane
and that the pork industry should work toward gestation crate-free housing for pregnant sows."
Mercy For Animals is cautiously optimistic about Kroger's plan to move toward a gestation crate-free supply chain. The pork industry's use of gestation crates is one of the worst forms of institutionalized animal abuse in existence and we praise Kroger for acknowledging that this cruel system is unsustainable and must be phased out. By speaking out against these inherently cruel crates, Kroger is taking a positive step forward in improving animal welfare.
Last year, MFA conducted an
undercover investigation into Iowa Select Farms
, one of Kroger's pork suppliers, documenting thousands of mother pigs forced to live inside narrow metal gestation crates barely larger than their own bodies. Our investigation at this Kroger pork supplier revealed pigs suffering from untreated pressure sores, bleeding uterine prolapses, chronic lameness, and severe psychological distress.
The list of fast-food giants, including
McDonald's
, Wendy's,
Burger King
, and
Tim Hortons
, as well as foodservice companies and retailers, such as
Compass Group
,
Bon Appetit Management Company
, and
Safeway
, that are making this move keeps on growing. And now that Safeway and Kroger, the nation's top two traditional grocers, have taken this step, we hope to see Walmart, Kmart, Costco, SUPERVALU, and others follow suit. We further hope that all of these major foodservice providers commit to 100% gestation crate-free pork policies, establishing clear plans and timelines for a timely transition.
To help eliminate crated pork from the United States' supply chain, ask your local grocers about their animal welfare practices and urge them to move away from cruel gestation crates. You can also encourage friends, family, coworkers, and neighbors to adopt a pork-free vegetarian diet. For delicious, cruelty-free recipes, visit
ChooseVeg.com
. For your free
Vegetarian Starter Kit
,
click here
.