Thousands of people celebrating gay pride in Los Angeles this past weekend got an eye-opening glimpse of another form of oppression: factory farming. Dozens of Mercy For Animals members marched in the LA Pride Parade, handing out over 14,000 flyers featuring an image of a puppy and piglet asking attendees the burning question, "
Why love one but eat the other
?"
Volunteers proudly waved rainbow and MFA logo flags and carried a banner reminding the excited crowd: "No one is free when others are oppressed."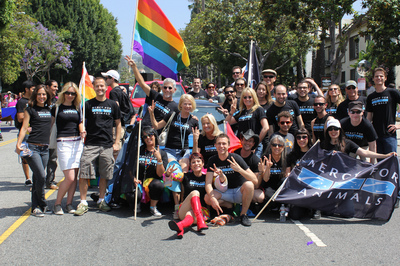 Volunteers also exposed festival-goers to the cruelty inherent in animal products at the weekend-long LA Pride Festival. At the Mercy For Animals booth, festival-goers were offered one dollar to view a 4-minute edit of the
Farm to Fridge
video on MFA's new
paid-per-view
stands. Viewers walked away from the booth with a new perspective of the oppression faced by billions of farmed animals, and with a
Vegetarian Starter Kit
in hand.
While this is MFA's seventh year of marching in gay pride parades nationwide, it marks our debut at LA Pride in West Hollywood - which stepped off near our new national headquarters.
Huffington Post
writer Mikko Alanne, who joined MFA in the parade, wrote a compelling article on the experience,
sharing his feelings
about the commonalities between the gay rights and animal rights movements.
For help improving your health and helping animals by adopting a plant-based diet, visit
ChooseVeg.com
.